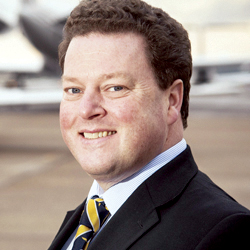 Richard Mumford invites members' opinions on industry issues
Widening BACA's global presence
It is a busy time for the association. On 25 April we held our annual Spring Lunch at Merchant Taylors' Hall in London and said goodbye to two esteemed industry colleagues, Bernard Keay and Dick Gilbert, who have retired from the Council after many years of service.
On 3 May we ran a BACA training afternoon, tackling some important compliance issues for our members covering topics such as GDPR and the recent changes to credit card charges. Our next event is a charity cycle challenge around Lake Geneva on 27-28 May in aid of our charity of the year, fly2help. We still have spaces if you would like to join in, or do visit our website for the link to sponsor the riders. This will be closely followed by our popular EBACE Networking Reception at Mr Pickwick in Geneva, from 6pm on Tuesday, 29 May. We hope to see as many of our members and associates there as can make it. Wristbands will be available from booth J30 on the day.
In between all these events we are working on some current industry issues. We have been, and will continue to be, commenting on a number of critical market issues in partnership with key industry associates in the coming weeks, including illegal charters and airport opening hours.
With this in mind, CEO Dave Edwards and I recently met with British Conservative MP Grant Shapps, who heads the All Party Parliamentary Group (APPG) on General Aviation. The APPG is a powerful group with more than 150 MPs and is very keen to engage with the charter, business aviation and cargo communities. It has specifically invited BACA to feed key issues into it so that together we can seek to influence government policy and legislation. I welcome thoughts from our members on how we might achieve this.
Shapps specifically referenced the need to enthuse the next generation of workers into avia- tion – an area focused upon in our recent member survey. Again we welcome any insight members might provide on how we can raise the profile of careers in aviation, charter and aircraft operations with students, school leavers and graduates.
BACA strives to deliver greater value to its members and assist them in improving our market. One of our current aims is to contribute more thought leadership and we have recently set up a number of internal and dedicated committees to work on our projects. One example is our International Committee which will work on widening the association's global presence.
Richard Mumford, chairman, BACA
Contact details