Charter Broker is the leading magazine for business aviation charter professionals throughout the world, published bimonthly from February to December.
---

February 2017

Read online | Tablet edition | Search the news

International brokerage: There's more than one way to buy charter

Three ad hoc air charter brokers walk into a bar and the barman says: "I want to fly from Teterboro to Geneva, tomorrow. Tell me what to do." He will get three different answers depending where the brokers originate from. Charter Broker magazine has spoken to these three brokers, and a considerable ...

---
Don't miss our next issue: April 3, 2017 Sign up for our free news emails.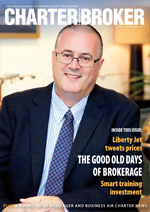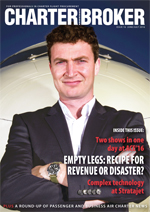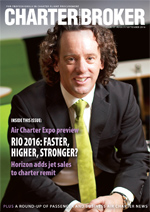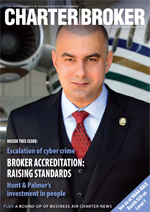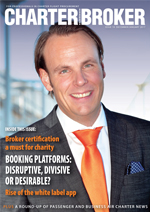 Interested in advertising? See our media brochure for more details.
The latest charter broker news releases
Actor Michael Wong shows off high-life on private jet in L'Voyage video
08/02/17: L'Voyage, a Hong Kong-based private jet chartering company, has teamed up with actor and heart throb, Michael Wong, to showcase how the well-heeled kick off their shoes and relax on a personal jet. Together with his wife, Hong Kong supermodel Janet Ma, and daughter, fashion icon Kayla Wong, Michael Wong and his beautiful family are filmed inside a luxurious Gulfstream G450 enjoying a private celebration, relaxing, smoking a cigar and practising golf.
Air Charter Service: love is in the air for the private jet-set
08/02/17: As a prelude to Valentine's Day next week, leading private jet company, Air Charter Service, has revealed some of the most romantic gestures that have taken place on board their flights.
Encore Jets launches private jet flights to Cuba with new partnership
03/02/17: Beginning today, the New York City based private jet startup Encore Jets will offer direct flights to Cuba from 24 United States cities and their respective airports, including Miami, Atlanta and New York. The brokerage has partnered with the tour operator and travel agency International Expeditions, recognized for its ongoing experience in tourism and government relations with Cuba. Together, the two travel companies have introduced private charter flights and customized experiences through Encore Jets' Discover Cuba, while complying with all FAA regulations.
The latest charter operator news releases