Charter Broker is the leading magazine for business aviation charter professionals throughout the world, published bimonthly from February to December.
---

October 2016

Read online | Tablet edition | Search the news

Broker accreditation: raising standards

Over time the ad hoc air charter industry has ceded to the demands of its major participants to improve the quality of business transacted by those involved in the operational side. Regulation has had a positive effect on safety....

---
Don't miss our next issue: November 25, 2016 Sign up for our free news emails.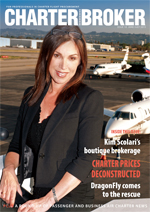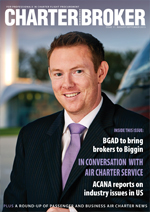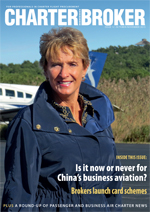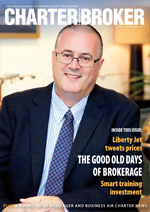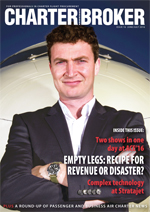 Interested in advertising? See our media brochure for more details.
The latest charter company job vacancies
The latest charter broker news releases
The latest charter operator news releases
Nomad Aviation adds Beechcraft Premier 1 business jet to charter fleet
29/09/16: Nomad Aviation has added a Beechcraft Premier 1 business jet to its charter fleet. The aircraft will be available to customers at the end of September 2016.
Zetta Jet grows fleet with addition of Bombardier Global 6000 Jet featuring industry leading passenger amenities
28/09/16: An additional Bombardier Global 6000 jet has joined the fleet of fast-growing, Singapore-based charter operator, Zetta Jet. The delivery ceremony took place at Bombardier Business Aircraft's global completion centre in Montréal. This latest Global aircraft to join Zetta Jet's all Global fleet is slated to operate out of Zetta Jet's North America hub in Los Angeles. The first Bombardier jet to feature the latest cabin management system (CMS) and the world's fastest Ka-band high-speed in-flight internet connectivity, Zetta Jet passengers will enjoy a truly modern office environment anywhere they fly. The Global 6000 business jet cabin is specifically designed to provide a highly productive working environment, a key factor in making these aircraft a leading choice for operators worldwide.
Wijet acquires Blink to create world's largest air taxi service
27/09/16: Wijet today announced that it is acquiring Blink to create the world's largest air taxi company, with an enterprise value of 45 million euros. The transaction will see the respective fleets being brought together into the same company and based all across Europe. With the scale that fifteen Cessna Mustang very light jets provides, the true efficiencies of the air taxi service can be realised.