Charter Broker is the leading magazine for business aviation charter professionals throughout the world, published bimonthly from February to December.

Find the right aircraft
with our trip planner

Enter your departure and arrival airports to see the aircraft and operators most suitable
Such as this
Challenger 604

Try it now!
---

October 2017

Read online | Tablet edition | Search the news

Investigating the hidden value of brokers

In this issue we look at service inconsistencies relating to business aviation operations. In life, if something can go wrong, it usually does; in business, how brokers deal with flight problems is the mark of their skill and professionalism, and the kiss of life or death to their relationship with ...

---
Don't miss our next issue: December 15, 2017 Sign up for our free news emails.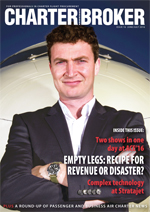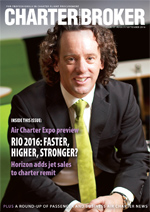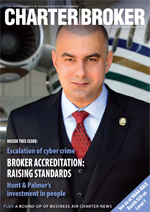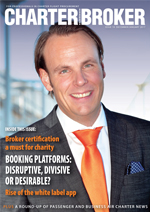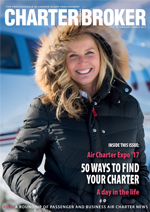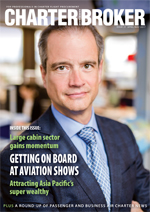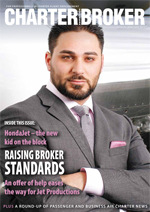 Interested in advertising? See our media brochure for more details.
The latest charter company job vacancies
The latest charter broker news releases
Record quarter for Air Charter Service with 144 million pounds revenue over three months
21/11/17: World leading aircraft charter specialist, Air Charter Service, has reported that the company achieved revenue of more than 144 million pounds in the period August to October, making it the record quarter in its history, and 50% up on the same period last year, as well as reaching a new high of 4,279 contracts in just three months.
Air Partner announces further JetCard enhancements
21/11/17: Recently recognised by Conklin & de Decker as the most flexible private jet membership available, Air Partner's JetCard team continues to enhance its exceptional product offering with the introduction of new gourmet menus across 34 airports in Europe with further expansion planned. Collaborating with high-end catering partners, such as private aviation culinary concierge company On Air Dining, now affords Air Partner's JetCard members the chance to fully indulge in exclusive fine dining whilst they fly through the skies.
Stratajet lands top five spot in Deloitte UK Technology Fast 50
17/11/17: Stratajet, the only platform that offer fliers direct access to the private jet marketplace, today announced that it has ranked fifth in the 2017 Deloitte UK Technology Fast 50. The list, ranking the 50 fastest growing technology companies in the UK, is based on percentage revenue growth over the last four years. Stratajet grew 3,634 per cent during this period.
The latest charter operator news releases
Zetta Jet receives commitment for $8.5 million post-petition financing from Scout Aviation II, LLC
17/11/17: Zetta Jet, a global leader in private international, business and luxury air travel, announced today that its existing lessor Scout Aviation II, LLC has committed to provide up to $8.5 million in post-petition financing. The financing, subject to Bankruptcy Court approval, will enable the company to satisfy customary obligations associated with the daily operations of its business, including the timely payment for aircraft usage, fuel, post-petition goods and services, employee wages and other obligations.
Sky Prime Private Aviation gains 70% of Saudi market share in private aviation
15/11/17: Saudi Arabia's Sky Prime Aviation Services has announced rapid growth for 2017 that places it as the largest private aviation operator in the Middle East since its inception in 2016. Now stepping strongly into its second year of operation, Sky Prime Private Aviation reports 40% growth in charter flights size compared to 2016, as well as 25% growth in flying hours and 20% growth in Sky Prime elite clientele.
Premium Jet now accepting Bitcoin payments
15/11/17: With immediate effect, Premium Jet has decided to accept charter flight payments in the cryptocurrency Bitcoin and in doing so has become one of, if not the, first business aviation operators in Europe to offer such a service.