Charter Broker is the leading magazine for business aviation charter professionals throughout the world, published bimonthly from February to December.
---

December 2016

Read online | Tablet edition | Search the news

Platforms: disruptive, divisive or desirable?

This year the expo hall at NBAA-BACE was awash with technology companies and innovative systems that share the aim of facilitating the quoting and sale of private jet charter flights. Charter Broker magazine is looking at the impact of quote and pricing platforms on the ad hoc passenger charter mark...

---
Don't miss our next issue: February 6, 2017 Sign up for our free news emails.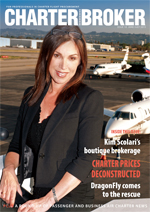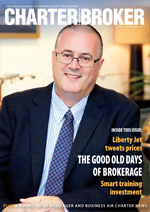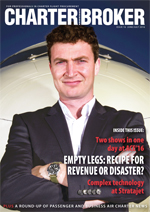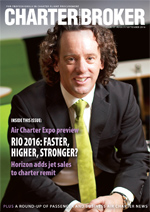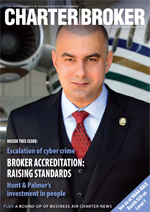 Interested in advertising? See our media brochure for more details.
The latest charter company job vacancies
The latest charter broker news releases
Magnus Aviation reports 46% increase in UK residents chartering private jets for 2016/17 ski season
05/12/16: So far, compared to last year's ski season, Magnus Aviation, a private jet charter business, has seen a 46% increase in bookings from UK based clients to charter jets to airports with transfers to some of Europe's most expensive and popular ski resorts such as Verbier and St Moritz.
New Flight Charters launches jet charter resource for Colorado private flight information
29/11/16: The first ever complete listing of private jet and charter aircraft available for the state of Colorado including specific charter information is now available online. Local private jet charter and information service New Flight Charters has launched Jet Charter Colorado.
JetSmarter's inaugural JetShuttle flight from Dubai to London takes off December 1st
23/11/16: JetSmarter, the world's leading private jet company has announced today, the launch of the first-ever shared, private JetShuttle flight that will connect Europe and the Middle East, offering JetSmarter members single-seat trips on flights between Dubai and London. For the first-time in the private aviation industry, travelers will be able to reserve seats on direct, scheduled flights between three continents; North America, Europe and the Middle East.
The latest charter operator news releases
DC Aviation undergoes helicopter fleet expansion
05/12/16: In the fourth quarter of this year, DC Aviation has expanded its helicopter fleet with an AgustaWestland 139, which will be available for charter immediately. The AW139 is an intermediate twin-engine helicopter with outstanding performance capabilities and great productivity in challenging multi-role operations all over the world. The aircraft features cutting-edge technology, including a Honeywell Primus Epic fully integrated avionics system and four-axis digital AFCS and it benefits from the best-in-class power reserve and an outstanding power-to-weight ratio, which provides Category A performance capabilities with no limitations in a wide range of operating conditions, including flying in an alpine environment.
Pentastar Aviation partners with The Townsend Hotel as official private jet charter provider
01/12/16: For the second consecutive year, Pentastar Aviation is partnering with The Townsend Hotel in Birmingham, Michigan, to bring seamless global travel services to a mutual clientele. Pentastar Aviation, a leader in the world of private aviation, is also now the official private jet charter provider of The Townsend Hotel.
ExecuJet Europe gains highest IS-BAO Stage Three accreditation
01/12/16: Swiss-registered ExecuJet Europe AG has been accredited with IBAC's International Standard for Business Aircraft Operations (IS-BAO) Stage Three certificate, the highest IS-BAO accreditation the organisation can achieve, demonstrating IBAC's confidence in ExecuJet Europe to continually exceed safety management best practices.