Charter Broker is the leading magazine for business aviation charter professionals throughout the world, published bimonthly from February to December.

Find the right aircraft
with our trip planner

Enter your departure and arrival airports to see the aircraft and operators most suitable
Such as this
Learjet 45XR

Try it now!
---

December 2017

Read online | Tablet edition | Search the news

Yacht charter for jet customers – have you missed the boat?

There are many similarities between the users of luxury air and boat services. We look at how private jet brokers around the world are dipping a toe or two into the parallel specialism of yacht charter. We asked about the challenges of moving into another area of the travel industry, and what benefi...

---
Don't miss our next issue: January 25, 2018 Sign up for our free news emails.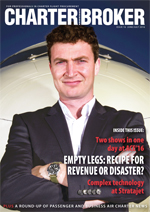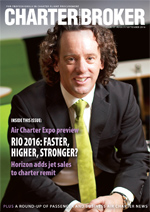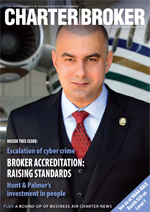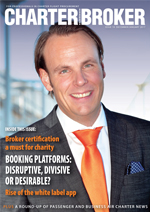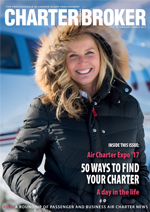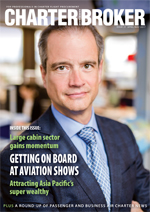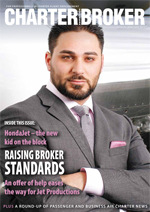 Interested in advertising? See our media brochure for more details.
The latest charter broker news releases
BACA to deliver winning hand for ACE18
22/01/18: BACA CEO Dave Edwards met Robert Walters of London Biggin Hill Airport and Mark Ranger of EBAN and Charter Broker magazines to officially launch ACE18, the annual charter broker exhibition and conference. ACE18 will take place at London Biggin Hill Airport on September 11th 2018.
M2Jets partners with Cardi B, Future and others for Super Bowl LII
18/01/18: M2Jets, a full service private aviation company specializing in aircraft management and private jet charters, is excited to announce that it will be kicking off Super Bowl LII weekend by partnering with chart-topping artists Cardi B and Future.
Air Charter Service predicts more than 1,000 private jets to descend on Swiss town
18/01/18: Next week the annual World Economic Forum (WEF) will bring business leaders from around the world to the Swiss town of Davos, and Air Charter Service predicts there will be more than 1,000 private jet flights over the five days.
The latest charter operator news releases
2Excel BroadSword introduces two UK based VIP Boeing 737s to fleet
17/01/18: 2Excel BroadSword has introduced two UK based VIP Boeing 737s to its fleet.
A year of incredible growth for global business aviation unicorn, VistaJet
17/01/18: VistaJet, the first and only global business aviation company, today announced that it had its strongest ever year in 2017, with flight hours up markedly year-on-year. It also made significant progress on its core strategic priorities, increasing market share across the globe, and recording double digit growth in flight hours in both the US and Asia. Also, following investment from funds affiliated with Rhône Capital, the company's equity is valued well in excess of $2.5billion, cementing VistaJet's position as one of the top five European unicorns by funding.
FAA approves Ravn Alaska's safety management system
16/01/18: Today, Ravn Air Group, Alaska's largest regional airline, is proud to announce its safety management system or SMS, has been approved by the FAA.