Charter Broker is the leading magazine for business aviation charter professionals throughout the world, published bimonthly from February to December.

Find the right aircraft

Enter your departure and arrival airports to see the aircraft and operators most suitable
Such as this
Agusta A109E

Try it now!
---

June 2017

Read online | Tablet edition | Search the news

Gaining Knowledge: Raising broker standards

Total global wealth is on the rise and projected to surpass $100 trillion by 2025. But it's not just the rich who fly privately, it extends to all those for whom time must be well managed. Private jet customers, from whatever financial background and from whatever walk of life, want a level of servi...

---
Don't miss our next issue: July 31, 2017 Sign up for our free news emails.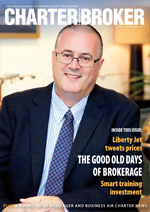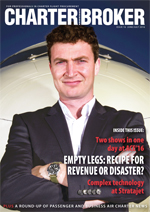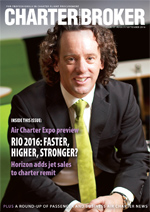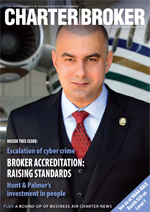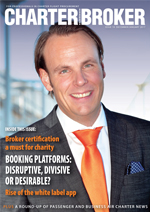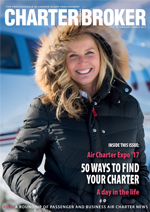 Interested in advertising? See our media brochure for more details.
The latest charter company job vacancies
The latest charter broker news releases
The latest charter operator news releases
Zenith Aviation almost doubles hours flown in half year performance report
19/07/17: Biggin Hill based corporate jet operator, Zenith Aviation has reported a staggering year on year increase in the number of hours flown in both Q1 and Q2 of 2017 in comparison to the same period last year.
Multiflight becomes official flight partner of newly-promoted Premier League club Huddersfield Town
19/07/17: Leading UK private aviation company Multiflight is delighted to announce an exciting new partnership with newly-promoted Premier League club Huddersfield Town. Multiflight, based at Leeds Bradford Airport, has become the club's official flight partner for the 2017/18 season. The new partnership was celebrated by a visit to the club by Multiflight director Miles Beecham.
XOJET signals new era in private jet travel with brand new suite of membership programs following record 40% growth in program sales, 78% spike in charter brokerage business and 200,000th flight
18/07/17: XOJET, the leader in on-demand private-jet travel, has signalled a new era in private aviation with a new suite of membership programs as the trusted advisor and leading provider of aviation solutions for today's modern flyers. Called XOJET Access Solutions, the new membership program also represents a four-year investment, a new commitment to high-use jet travelers, fixed rates on light and mid-size jets for the first time and additional offices. The news follows a record forty percent growth in program sales, a seventy-eight percent spike in charter brokerage business and the completion of XOJET's 200,000th flight.