Charter Broker is the leading magazine for business aviation charter professionals throughout the world, published bimonthly from February to December.

Find the right aircraft
with our trip planner

Enter your departure and arrival airports to see the aircraft and operators most suitable
Such as this
Agusta A119 Koala

Try it now!
---

December 2017

Read online | Tablet edition | Search the news

Yacht charter for jet customers – have you missed the boat?

There are many similarities between the users of luxury air and boat services. We look at how private jet brokers around the world are dipping a toe or two into the parallel specialism of yacht charter. We asked about the challenges of moving into another area of the travel industry, and what benefi...

---
Don't miss our next issue: January 25, 2018 Sign up for our free news emails.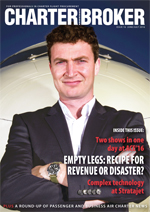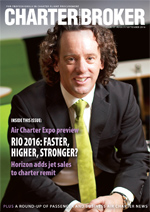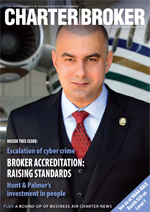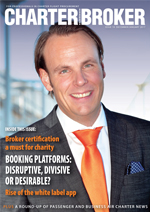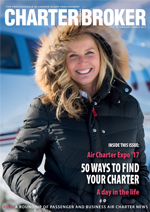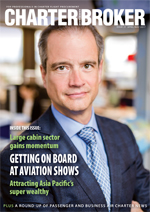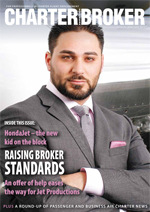 Interested in advertising? See our media brochure for more details.
The latest charter company job vacancies
The latest charter broker news releases
Private jet charter empty legs listing announced by New Flight Charters
14/12/17: New Flight Charters, a nationwide leader in private jet charter since 2004, has announced the largest public listing of empty legs in the jet charter industry. The company now is listing over 150 upcoming and available empty legs from U.S. private charter aircraft.
Air Charter Service flies animals displaced by Irma to new homes
13/12/17: Over the past few months Air Charter Service has been involved in numerous flights in the wake of the devastating hurricanes in Florida and the surrounding areas, but possibly none quite as heart-warming as flying displaced rescue animals to their new homes after they were evacuated from Florida.
PrivateFly opens Santa's Gulfstream grotto
12/12/17: While Santa is more usually found flying in a sleigh, he switched to a Gulfstream G450 last weekend as part of a unique Christmas event organised by PrivateFly at Harrods Aviation Luton.
The latest charter operator news releases
XOJET business growth fuels investments in industry-leading safety, training, and flight standards programs
14/12/17: XOJET, the leader in on-demand private jet travel, has responded to a 2017 business surge with heightened investments in safety, flight standards and training. The company recently announced the appointment of talented aviation industry veteran, Daniel Ramirez, formerly at Embraer Aircraft Corporation, as its new director of safety. Further, driven by a 13% increase in new membership programs under the newly-minted XOJET Access Solutions, which launched earlier this year, the company has doubled the size and reach of its flight standards department and executed the on-demand private aviation industry's first Line Operations Safety Assessment (LOSA). XOJET is the first Part 135 operator to conduct this rigorous program, which strengthens the company's already robust set of safety protocols.
Deer Jet crowned "World's Leading Private Jet Charter" for third consecutive year
11/12/17: The World Travel Awards (WTA), the travel industry's leading awards programme, reunited hundreds of leaders representing the best of the world's hospitality for a glamorous night on December 10, 2017 at the JW Marriott Phu Quoc Emerald Bay. For the third year in a row, Deer Jet was selected as the "World's Leading Private Jet Charter".
Navair Jet Services welcomes payment by Bitcoin
08/12/17: Speed, discretion and uncompromising service are crucial in the business aviation sector. Yet, according to Navair Jet Services, those successful enough to enjoy those luxuries suffer through tedious, insecure and expensive payment hurdles. Believing that private jets and Bitcoin were made for each other, the Sydney based operator is now accepting payment by this cryptocurrency.