Charter Broker is the leading magazine for business aviation charter professionals throughout the world, published bimonthly from February to December.

Find the right aircraft

Enter your departure and arrival airports to see the aircraft and operators most suitable
Such as this
Citation XLS

Try it now!
---

April 2017

Read online | Tablet edition | Search the news

The expert's guide to working the aviation expo

Charter Broker's readership comprises more than 15,000 brokers of ad hoc business air charter around the world, as distinct from our global operator readership, and many will be visiting EBACE in May....

---
Don't miss our next issue: June 12, 2017 Sign up for our free news emails.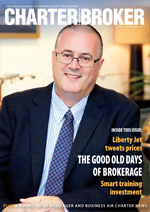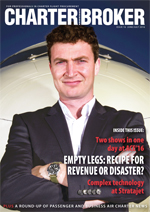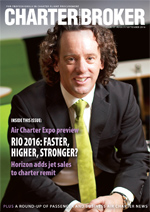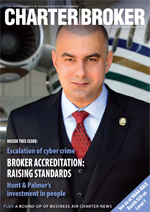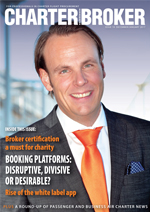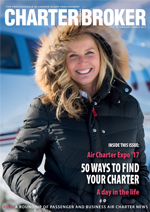 Interested in advertising? See our media brochure for more details.
The latest charter company job vacancies
The latest charter broker news releases
SimpleCharters grows private charter fleet with JetSelect Aviation partnership
24/05/17: SimpleCharters today announced the addition of JetSelect Aviation's ARGUS Platinum rated fleet to its on-demand network of charter aircraft, available for booking on ​SimpleCharters.com​. These additional 32 aircraft are strategically located in over 12 cities, bringing additional capacity to the growing network of aircraft available for instant purchase.
Air Charter Global expands to Hawarden Airport
23/05/17: Air Charter Global has moved its head office to the Aviation Park at Hawarden Airport, Flintshire, in an expansion move to bring it closer to business links within the industry. Located in the Business Aviation Centre, this modern and prestigious new office sits high above the general aviation apron providing excellent views of the airport and its facilities. Air Charter Global is fortunate to have the opportunity to grow in such a dynamic aviation environment at Hawarden.
Aim of Emperor: business aviation in Russia climbs to cruise flight level
22/05/17: For the first five months of 2017 year the Russian charter business aviation market has increased by 7% and will continue to grow in the summer of this year, according to data provided by the Aim of Emperor group analysts. The group's structural divisions cover all Russian business aviation market segments: charter flights organization (LL Jets, QuantumVia), aircraft management company (Emperor Aviation), aircraft ground handling company (Capital AviaNeft).
The latest charter operator news releases