Charter Broker is the leading magazine for business aviation charter professionals throughout the world, published bimonthly from February to December.

Find the right aircraft
with our trip planner

Enter your departure and arrival airports to see the aircraft and operators most suitable
Such as this
Phenom 100

Try it now!
---

June 2017

Read online | Tablet edition | Search the news

Gaining Knowledge: Raising broker standards

Total global wealth is on the rise and projected to surpass $100 trillion by 2025. But it's not just the rich who fly privately, it extends to all those for whom time must be well managed. Private jet customers, from whatever financial background and from whatever walk of life, want a level of servi...

---
Don't miss our next issue: August 14, 2017 Sign up for our free news emails.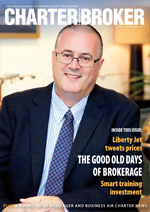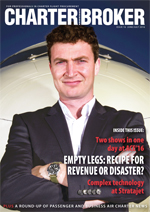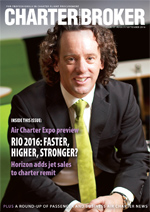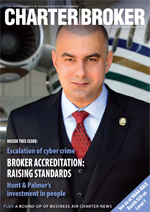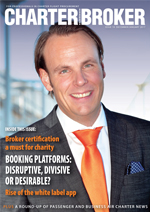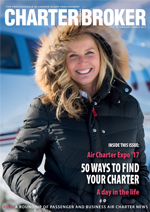 Interested in advertising? See our media brochure for more details.
The latest charter company job vacancies
The latest charter broker news releases
Hahn Air Lines' charter flights now bookable on Returnjet.com
16/08/17: Hahn Air Lines, the German scheduled and business jet charter airline based at the airports of Düsseldorf and Frankfurt Egelsbach, has announced a partnership with Returnjet, the leading free-of-charge search and booking platform for brokers. The integration with Hahn Air Lines' flight operations management system, FL3XX, was completed in July. As a result, the airline's charter inventory can now be conveniently accessed and booked by over 1,000 brokers worldwide.
Air Charter Service sees sky-watchers flock to US airports in path of total solar eclipse
14/08/17: Later this month the first total eclipse in America this century will take place, and leading aircraft charter company, Air Charter Service, is chartering aircraft to several destinations for stargazers to get a better look.
Piaggio Aerospace participates with Avanti EVO at Air Charter Expo 2017 in London
09/08/17: Piaggio Aerospace, a leading Italian aircraft manufacturer active in the business and defense and security sectors, today announced it will participate with its Avanti EVO in the Air Charter Expo 2017 to be held at the London Biggin Hill Airport, on September 12, 2017. Organized by BACA (the Air Charter Association), ACE is the international exhibition dedicated to the air charter industry and addressed to global operators.
The latest charter operator news releases
Windsor Jet Management announces leadership team updates
10/08/17: Windsor Jet Management, a private jet charter operator based out of Fort Lauderdale Executive Airport, is proud to announce recent changes in its leadership team commencing with the appointment of Juan Hincapie as general manager of the company effective immediately.
Silver Air now managing and operating one of largest Citation X fleets in U.S.
10/08/17: Silver Air, the private jet manager and charter operator, has added a fifth Citation X to its managed fleet making it one of the largest Citation X management companies in the United States.
XOJET expands network of retail offices to serve customer base
10/08/17: XOJET is expanding its network of retail offices to better serve its burgeoning customer base and the rapid growth of its charter-brokerage business. The leader in on-demand private-jet travel, which last month announced a suite of new membership programs, XOJET Access Solutions, is further strengthening its presence in key regions, with the opening of an office at Palm Beach International Airport to be closer to clients in south Florida, where the firm has seen an 18% increase in flights over the last year. In 2016 XOJET's top five most frequented airport cities in the southeast region were in south Florida, which has experienced a growing concentration of wealth.