Charter Broker is the leading magazine for business aviation charter professionals throughout the world, published bimonthly from February to December.

Find the right aircraft
with our trip planner

Enter your departure and arrival airports to see the aircraft and operators most suitable
Such as this
Legacy 600

Try it now!
---

October 2017

Read online | Tablet edition | Search the news

Investigating the hidden value of brokers

In this issue we look at service inconsistencies relating to business aviation operations. In life, if something can go wrong, it usually does; in business, how brokers deal with flight problems is the mark of their skill and professionalism, and the kiss of life or death to their relationship with ...

---
Don't miss our next issue: December 15, 2017 Sign up for our free news emails.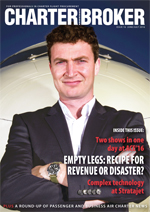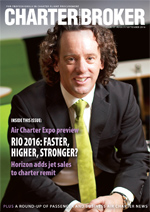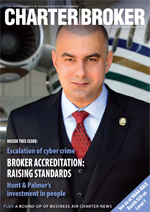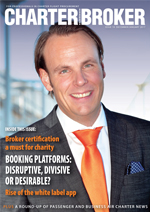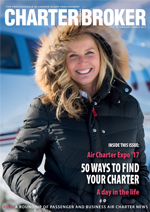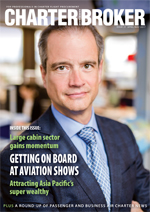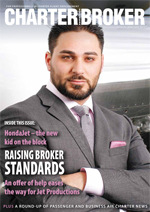 Interested in advertising? See our media brochure for more details.
The latest charter broker news releases
Air Charter Service helps take Germany's biggest club night to skies
17/10/17: Leading aircraft specialist, Air Charter Service, recently arranged for a VIP-configured, fully customised Airbus A340 to take some of the world's biggest DJs, including Afrojack, to the skies to kick off a huge party weekend in Frankfurt.
JetClass launches private jet flights from just 290 euroes
14/10/17: JetClass, a ground-breaking, non-subscription travel service that gives travellers the unique ability to book seats on private jets, has released a new schedule which offers seats from as little as 290 euros. In September alone, JetClass introduced seven additional European destinations, connecting Paris-Milan, Warsaw-Vienna, Berlin-Strasbourg, Hannover-Amsterdam, London-Chambery and others. The company is also due to start services in the Middle East later this year, and in the US next year.
Avinode data shows business aviation rise to challenge of Hurricane Irma
10/10/17: New data from Avinode (NBAA Booth C10018), the world's leading online marketplace for buying and selling air charter, shows business aviation responded superbly to Hurricane Irma.
The latest charter operator news releases
Waves gets soft launch underway
11/10/17: Channel Islands operator, Waves has started flying.
TAG Aviation Asia granted San Marino AOC
11/10/17: TAG Aviation San Marino, a subsidiary of TAG Aviation Asia, has been awarded an Air Operator Certificate (AOC) by the Civil Aviation Authority of the Republic of San Marino (SM-CAA). TAG Asia is the first aviation company in Asia to receive an AOC from San Marino and has already opened a dedicated office and sourced its launch aircraft which is a Gulfstream 650ER.
JetSuite adds first Phenom 300 to light jet fleet
10/10/17: JetSuite, Inc., one of the nation's leading private aviation companies, announced today at NBAA's Business Conference & Exhibition that it has expanded its fleet with the first of several Embraer Phenom 300s. The company took delivery of its first Phenom 300 in late September, and expects to begin flying this extremely popular aircraft as part of its charter service in mid-October.