Charter Broker is the leading magazine for business aviation charter professionals throughout the world, published bimonthly from February to December.

Find the right aircraft

Enter your departure and arrival airports to see the aircraft and operators most suitable
Such as this
Global 5000

Try it now!
---

June 2017

Read online | Tablet edition | Search the news

Gaining Knowledge: Raising broker standards

Total global wealth is on the rise and projected to surpass $100 trillion by 2025. But it's not just the rich who fly privately, it extends to all those for whom time must be well managed. Private jet customers, from whatever financial background and from whatever walk of life, want a level of servi...

---
Don't miss our next issue: July 31, 2017 Sign up for our free news emails.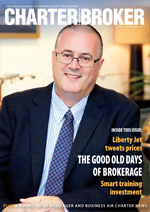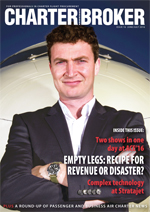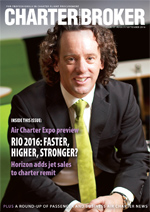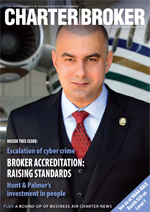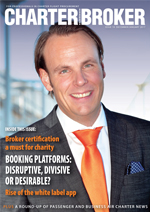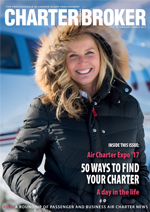 Interested in advertising? See our media brochure for more details.
The latest charter company job vacancies
The latest charter broker news releases
The latest charter operator news releases
SaxonAir adds two more VIP helicopters to charter fleet to fulfil demand
21/06/17: Air charter operator and aviation service provider SaxonAir has continued its expansion by doubling its helicopter charter fleet with the addition of two new AW109SP Grand New helicopters. Both helicopters are operated through new managed aircraft contracts and will be based in the London area to serve SaxonAir's increasing client demand.
Jet Edge International increases Bay area operations with Oakland-based luxury jet
20/06/17: Jet Edge International, a leading full-service private aviation company based in Los Angeles, is continuing its expansion by stationing a Legacy 600 large cabin jet at Oakland International Airport. This aircraft is available for charter immediately and is one of the company's 55 large-cabin private jets, strategically positioned in high-demand private jet charter markets throughout the world.
ExcelAire announces addition of Cessna Citation Latitude to fleet of business jets
20/06/17: ExcelAire, one of the nation's premier boutique aircraft management and charter companies, today announced the addition of a Cessna Citation Latitude to its growing fleet of business jets.