Come and see Charter Broker at EBACE Geneva - May 22nd-24th - Booth H37

Charter Broker is the leading magazine for business aviation charter professionals throughout the world, published bimonthly from February to December.

Find the right aircraft

Enter your departure and arrival airports to see the aircraft and operators most suitable
Such as this
Learjet 45XR

Try it now!
---

April 2017

Read online | Tablet edition | Search the news

The expert's guide to working the aviation expo

Charter Broker's readership comprises more than 15,000 brokers of ad hoc business air charter around the world, as distinct from our global operator readership, and many will be visiting EBACE in May....

---
Don't miss our next issue: June 12, 2017 Sign up for our free news emails.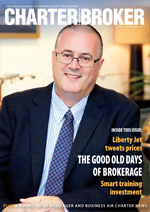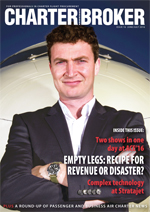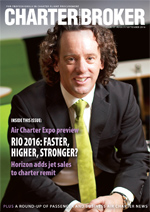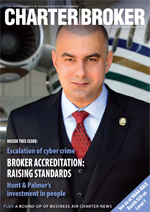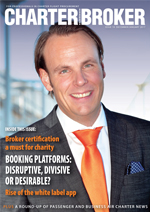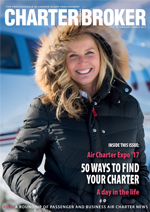 Interested in advertising? See our media brochure for more details.
The latest charter company job vacancies
The latest charter broker news releases
The latest charter operator news releases
DC Aviation receives 2017 Diamond Safety of Flight Award
22/05/17: DC Aviation, one of Germany's largest business jet operators and one of the leading operators in Europe, was again recognized for its excellent safety performance. At this year's EBACE, the European Business Aviation Association (EBAA) honored DC Aviation with the 2017 Diamond Safety of Flight Award for surpassing 100,000 hours of safe flying. DC Aviation is one in a small group of operators ever to receive this award.
Bombardier Challenger 350 joins TAG Aviation charter fleet
22/05/17: Bombardier Business Aircraft announced today the addition of a new Challenger 350 aircraft to TAG Aviation Europe's growing charter fleet. With its outstanding performance and continental range, the Challenger 350 is ideally suited for executive charters and premium business travel in the European market. Based in Geneva, the Challenger 350 is the first to be delivered in Switzerland and began commercial charter flight operations in early May.
Satcom Direct (SD) signs fleet wide contract with Air Alsie
21/05/17: Satcom Direct (SD), the business aviation connectivity solutions provider, announced today at EBACE from booth S80 that it has signed a new exclusive provider agreement with Air Alsie, the Denmark-headquartered aircraft charter, ambulance operator and management company. The agreement marks the first time that SD and Air Alsie have partnered, and will position SD as a single source supplying a range of connectivity services across the Air Alsie fleet.