Charter Broker is the leading magazine for business aviation charter professionals throughout the world, published bimonthly from February to December.

Find the right aircraft
with our trip planner

Enter your departure and arrival airports to see the aircraft and operators most suitable
Such as this
Challenger 300

Try it now!
---

August 2017

Read online | Tablet edition | Search the news

Multiflight supports local football club

Leeds Bradford airport, UK-based Multiflight has become the official flight partner of newly-promoted Premier League football club Huddersfield Town....

---
Don't miss our next issue: September 25, 2017 Sign up for our free news emails.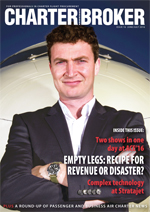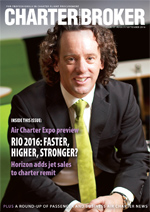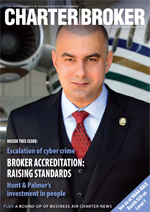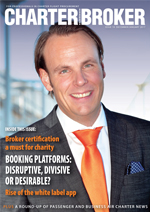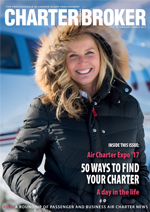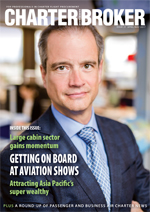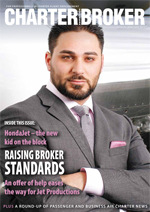 Interested in advertising? See our media brochure for more details.
The latest charter broker news releases
Christophe Navarre joins JetSmarter's board of directors
21/09/17: JetSmarter, the world's leading private jet company, announced today the addition of Christophe Navarre to its board of directors, to help oversee the company's continued expansion as the world's leading private jet company. 
Air Charter Service expects aircraft charter to be crucial to World Cup logistics next year
19/09/17: Leading aircraft charter specialist, Air Charter Service, says that aircraft charters will be an essential part of logistics for the FIFA World Cup in Russia next year.
Victor, leading on-demand jet charter marketplace, closes $20m Series B investment
19/09/17: Today, B2C jet charter marketplace leader Victor announced the signing of a strategic investment agreement with BP Ventures, BP's investment arm. BP Ventures, has committed to invest $10m as lead investor to Victor's Series B fundraising round. The round, raising a total of $20m, has been further bolstered through family offices and existing shareholders.
The latest charter operator news releases
Silver Air continues Los Angeles expansion with Challenger 300
21/09/17: Silver Air, the private jet manager and charter operator, has added a Challenger 300 to its expanding fleet of managed jets operating out of Van Nuys, California, serving the greater Los Angeles region.
Liberty Jet continues growth in Boston market with addition of Bedford-based Citation XL
21/09/17: Liberty Jet, a private jet operator and management company that connects clients to privately owned jets all over the country, is growing in the Boston market. The company has announced the addition of a WiFi-equipped Citation XL to be based in Bedford. The additional aircraft comes on the heels of Liberty Jet's new Charlestown office, opened last year to focus on charter brokerage which has doubled in size.
Air X receives Argus Platinum rating and IS-BAO approval
19/09/17: AirX is pleased to announce that it has received the Argus Platinum rating together with the IS-BAO approval. The new ratings followed an on-site Argus audit with zero findings as well as a proven functioning safety management system and emergency response plan.