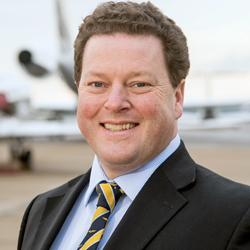 After a busy 2017 Richard Mumford is looking forward to moving forward on some exciting projects with BACA next year
News from BACA: Member numbers fuel BACA engine
In a month in which the world became aware that UK racing driver Lewis Hamilton owns an aircraft, it is easy for important matters to get lost among all the speculation. However, BACA took a major step forward this month – we appointed our first CEO, an historic moment for the association. Dave Edwards joins us on a part-time basis, alongside his other aviation roles, and I am excited by this development. But we didn't stop there, we also appointed new administrator Nicki Baynes, and freed up Madeleine Puzey to become our events and membership manager.
On the back of this I have high hopes for 2018 and look forward to the new executive team really delivering on our projects and the value we provide to our members. While they are doing so, I shall look forward to having time to focus on the key issues of the association, delivering on some exciting projects and the importance of BACA for our members and the entire air charter market. Highlights for next year will hopefully include some new events and the return of some old and more recent favourites, including our EBACE Networking Reception and ACE, the Air Charter Expo.
This has been a great year, and we look to be ending it with membership at record levels. We have attracted new members from all backgrounds, both geographically and commercially. Some have rightly noted that we must remain focused on our broker members, and we are starting a process of consultation and thinking about the direction we might take the membership in 2018.
Our purpose as an association is to raise and maintain standards of conduct among air charter brokers, while at the same time encouraging cooperation between all charter market participants. Our primary focus in generating new membership is therefore likely to be weighted towards a greater number and geographical spread of brokers. However, none of this detracts from our other members, all of whom bring positive energy to both the association and the market.
I look forward to seeing everyone at our next two events, our Spring Lunch on Wednesday, 25 April, 2018, and our EBACE Networking Reception on Tuesday, 29 May, 2018.
Richard Mumford, chairman, BACA
Contact details