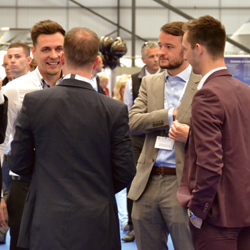 ACE17: Highlights from the show
If you didn't manage to get to the Air Charter Expo at London Biggin Hill this year, here's a round-up of what you missed.
On the static we had the first UK appearance of the Dassault Falcon 8X. Visitors could see new features such as its proprietary FalconEye combined vision system and FalconSphere II, a portfolio of EFB solutions that has pilots buzzing.
Piaggio brought over the Avanti EVO, the third generation P.180 with its five-blade scimitar propellers and three-lifting surface configurations, and a stand-up cabin height of 1.75m.
GlobeAir flew in one of its 16 Citation Mustangs; Sovereign Business Jets its Challenger 300; and Interflight its Hawker 800XP, fully refurbished in 2016.
Of course there were many more – a good range of aircraft showcased the broad range of charter options available to the market.
BACA presented a series of charter training sessions taking the audience through the role of a broker, law for brokers, the operator's perspective and a ground handling masterclass. Indeed its co-hosting of this year's expo brought a huge breadth of expertise and created the perfect environment for senior broker management to network and discuss the market.
On top of all that there were mouth-watering catering demon-strations from On Air Dining and Air Culinaire, and fun to be had with Castle Air's helicopter flight raffle and PrivateFly's table tennis competition.
Make sure to put next year's Air Charter Expo in your diary as soon as the dates are released.
Contact details