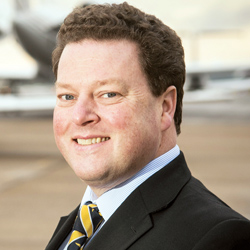 Richard Mumford looks to the CAA to preserve differences to private versus commercial regulatory requirements
Standing room only at ACE
ACE17, the Air Charter Expo on 12 September at London Biggin Hill airport, was a huge success. Attendance reached more than 700 visitors, up 40 per cent on last year despite a frenzy of broker activity in the wake of the recent hurricanes. The morning offered a dedicated conference programme for CEOs and senior management, with sessions delivered by experts on the global economy, finance and insurance. The afternoon programme comprised BACA training sessions on a number of key topics. Four lucky attendees won a scenic helicopter trip to London, kindly donated by Castle Air, and brokers also took part in a table tennis challenge with PrivateFly.
We had a fantastic static aircraft display, including the first visit of the Dassault 8X to the UK, and aircraft ranging from the innovative Piaggio Avanti EVO to Titan Airways' newest fleet member, the Airbus A318, and Cello's beautiful Boeing 737. All together there were around 20 aircraft on display.
The effect of the hurricanes on our members serves as a reminder of the amazing work they do in support of disaster relief and the repatriation of stranded holidaymakers. Many of our member brokers are working through the night to help bring people home or to take aid or specialist assistance out to the areas that are suffering. This requires great skill and dedication and I am proud of the role our members play. On behalf of BACA, I would also like to send our best wishes to all those affected by these awful events.
A few days ago I was reading a report about Brexit negotiations and was intrigued to see the views of the European Commission's Brexit negotiator in chief, Michel Barnier. When I read his comments on how he intends to educate us about what it means to leave the EU, I hoped that we might finally get an idea as to how our relationship with EASA and the EU in aviation was to be fashioned. Sadly, it was just empty political rhetoric and we appear to be no further forward. At ACE, chief economist Jeremy Cook, speaking as a guest of our sponsor, PayNode, made the gloomy observation that until the UK and the EU have agreed on their general principles it is unlikely that much progress will be made in individual markets, including aviation. I have commented before that I do not envy the UK CAA in having to unpick years of productive European integration. Its limited resources makes this doubly difficult. However, we do have to believe that a sensible resolution will be found.
In the meantime, the aviation industry continues to develop and evolve, and the air charter market is no exception. We continue to see innovative business models being launched, many of which help the market as a whole to advance and to improve the overall customer experience. For BACA, that customer experience is key because in demanding the highest standards of conduct by our members, we aim to ensure that the flying public is given a service that demonstrates value for money and encourages greater use of aircraft charter.
However, customer experience is broader than just making it easy to book a flight and offering cheap prices. It is about the absolute preservation of safety, security and reliability, ensuring that customer expectations are fully understood and delivered and being able to seamlessly adjust when things go wrong. That is why commercial operators carrying members of the public are required to meet higher regulatory requirements, and why they are more restricted in their operations than privately operated aircraft. I hope that the CAA can find the time and resources to really help preserve that difference.
In the coming months, we have much to look forward to. Firstly, I look forward to seeing you all at NBAA-BACE in Las Vegas, then on 18 October we have the BACA Excellence Awards and Autumn Lunch. This is a major highlight of the association's year, with many members in attendance and the opportunity to recognise the best in our industry. This year it is a significant occasion as it is the last lunch to be organised by former BACA chairman and council member Dick Gilbert. Dick has announced that he will be stepping down from the council in December this year. I would like to thank him for his years of dedicated service to BACA and for the flair he has brought to organising the lunches for more years than we are able to count.
Richard Mumford, chairman, BACA
Contact details