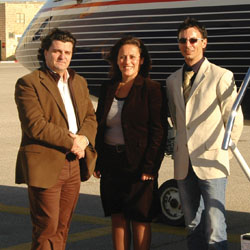 Happy with prospects in Malta, from left, are Marc Lile, ceo, Carre Aviation Ltd, Claire Abela of Mediterranean Aviation Co Ltd (Medavia), and Stanley Bugeja, md, DC Aviation Ltd (Malta) and president MBAA
Brokers take to Malta's round-the-clock operations
Brokers, private charter operators and aviation companies are confident that Malta's accelerated drive to develop as a European private aviation hub will bring a substantial growth in business.
DC Aviation, Comlux, Mediterranean Aviation Co Ltd (Medavia), Carre Aviation, BizAv Services Ltd and Orion (Malta) are among companies to confirm the positive impact of the country's new aircraft registration act. "We welcome the new legislation gladly and hope to see more executive jets being registered and based on the island," says Claire Abela, section manager ground handling and charter sales for Medavia.
Medavia, set up in Malta in August 1978 to provide a service to the oil sector in North Africa with its own turboprop aircraft fleet, has since significantly developed its brokerage and support activities. "Medavia has over the years become very well established in the provision of aircraft charter, mainly for North African clients," says Abela. "Various African heads of states are among major clients. The company provides small and large executive jets, airliners and dedicated freighter aircraft as well as dedicated air ambulance aircraft. It also provides flight operational support, worldwide procurement of aviation fuel and flight representation in both Malta and Libya."
Malta, she adds, offers several geographic and logistic advantages. "Malta international airport is 24-7 so Malta-based aircraft are available for dispatch round-the-clock. We face no major weather issues, unlike much of the rest of Europe, and we can almost guarantee 100 per cent reliability for the timely dispatch of aircraft."
Abela, who has worked for Medavia for 12 years with 10 years in the charter sales and brokerage department, says business has diversified out from charter requests for heads of state, the rich and famous, businessmen and corporations. "There are developing requirements to coordinate medical evacuations as well as cargo operations," she says. "The increase of aircraft registered and based in Malta in the last year has been seen as a positive change and is welcomed, especially since it has given us a great advantage both in prompt dispatching and favourable price factor."
Marc Lile, ceo of Carre Aviation which is headquartered in Malta, points out that the island benefits from tax incentives and positive legislation. He adds: "As an international company with decades of experience in the aviation industry we need to be based in a location that helps us focus on client service rather than pushing aside red tape."
Malta was chosen for its cosmopolitan business life and the strong economic activity, he adds. "We also have an office in Tbilisi, Georgia and a 24-7 worldwide flight operation centre staffed by Anglo-Russian speaking dispatchers enabling a quick turnaround. We have established a powerful network in all CIS countries and Africa enabling us to respond quickly and efficiently for all flights in this region. Our teams are trained specifically to fit the needs of each customer."
Services include aircraft management, 24-7 charter, sales and acquisition, flight operations, handling and design. Carre Aviation, he says, will attend to every detail from limousine or helicopter pick-up to airport formalities and visas.
Stanley Bugeja, md of DC Aviation Limited, says the new legislation being enacted has enthused the Malta Business Aviation Association (MBAA). "The MBAA was always confident of Malta's potential and is taking this opportunity to further promote business aviation. It will benefit not just aircraft registration but also management and operation, financing, maintenance, flight operations support and aircraft charter."
He points out that Comlux, Orion (Malta) and Carre Aviation are among new operators of business jets on a Maltese AOC. Carre Aviation bases its CRJ 200 with 14 seats in Malta while DC Aviation is already in its second year of operation as an FBO and regional sales office. BizAv Services Ltd, an aviation consulting firm set up to assist foreign companies register and operate business aircraft from the Maltese jurisdiction, reports a very successful 2009, obtaining two AOCs in the first half of the year and providing quality management support and crew training to clients. Bugeja says: "The Malta review in December's European Business Air News generated a lot of feedback and as such the MBAA is planning to hold a seminar during EBACE explaining the advantages of the Maltese jurisdiction to aircraft owners and operators."
DC Aviation, he says, ended 2009 on a very positive note. "We registered significant growth in November and December exceeding all expectations and registering an overall growth during the year of more than 10%. We believe that the fiscal incentives, the weather and the new registration should continue to make for a very positive business aviation outlook. DC Aviation is heavily investing in equipment and people and striving continually to improve service. We now have a whole fleet of cars at the disposal of our customers. We have provided extensive training to our employees and we continually talk to the local authorities on how we can improve the procedures for embarking and disembarking of business aviation passengers. As the whole of Europe continues its recovery we expect 2010 to be another strong year."
The company, he says, will be recruiting more personnel at its FBO and further investing in equipment and facilities. "DC Aviation also had a good year with regard to charter sales. Marketing our extensive fleet on our German AOC, which varies from an Airbus 319 CJ with 46 seats all first class to Lear 45, we made some inroads in the North African, Middle East and US markets. We feel that our strong and young fleet, as well as some clever pricing structures, will be instrumental for us to register even further growth in 2010." The Maltese sales team, a new addition to DC Aviation, developed quickly in 2009 and expects to benefit from the world's economic recovery.
Comlux, which has chosen to base most of its aircraft in Malta for financial and operational reasons, will further develop its presence in 2010. Its md in Malta Giovanni Corrieri says: "We are refining plans and conducting negotiations for new business in 2010 and there are already projects on the drawing board and these will be announced as we move on into 2010."
The country may be small but it is a member of the United Nations, the Council of Europe and the International Monetary Fund and, perhaps most importantly for the private aviation businesses it is attracting, can offer the benefits of full European Union membership.
Austin Gatt, Malta's minister for infrastructure, transport and communications says the act goes beyond consolidating the laws on registration of aircraft and security interests over aircraft into a single piece of legislation. It is designed to attract more aviation cluster business to Malta by providing incentives for growth and broadening the eligibility requirements for non-commercial aircraft.
A key feature is the implementation of the provisions of the Cape Town Convention and its aircraft protocol which provide further effective remedies to financiers, lessors, or conditional sellers of aircraft having an interest in the aircraft, in addition to those already existing under domestic law. Malta's ambitions to attract registration and charter business will inevitably put it more prominently on the radar of charter brokers. "Charter business with Russia and Africa, as well as Europe, will become more interesting," Bugeja predicts.