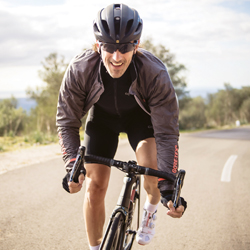 Former professional cyclist Fabian Cancellara is brand ambassador to Flying group
Company appointments
Desert Jet
Following increases of 40 per cent in charter flight hours and 62 per cent in charter revenue in 2017, California-based Desert Jet has made three appointments. Toby Benenson is COO, principally accountable for the overall strategic direction and leadership of the company. Art Dawley, formerly CEO at Wyvern Consulting, is vice president of operations and will support the planned 2018 expansion into global aircraft operations. And industry veteran Joe Madrid is now director of charter sales. The company plans to hire an additional 15 team members by the end of the year, to which end a talent and culture coordinator position has been created for newly promoted Kristin Gilliam.
Priority Jet
US-based Priority Jet is now under the leadership of CEO Judson Brandt, who brings experience in corporate and civil aviation as well as a background in IT and business development to the organi-sation. Steven Dunn is now vice president of client experience and growth, overseeing retail and brokered business as well as aircraft procurement and aircraft owner relationships. Kenneth Cooksey has been named chief pilot, Jim Coleman is office manager and Chris Forrister becomes accountant. These changes coincide with a move to a new corporate location at Atlanta Regional airport in Georgia.
Flyinggroup
Antwerp-headquartered Flyinggroup has appointed Swiss former pro cyclist and current Olympic time trial champion Fabian Cancellara as brand ambassador. Cancellara, a long- term charter customer of the group, says: "Flyinggroup has served me perfectly whenever the usual scheduled services couldn't meet my needs."
Contact details