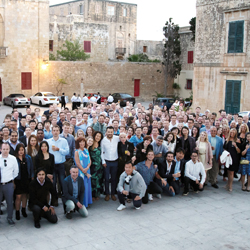 The Chapman Freeborn team celebrates with a weekend of fun in Malta
Chapman Freeborn marks 45 years of charter
Chapman Freeborn is celebrating 45 years in the aviation industry, during which time it has grown from a small UK-based operation to an international business with a global footprint. To help mark the milestone over 200 staff from every office, function and seniority gathered for a weekend of fun in Malta. Guests enjoyed a variety of activities including boat trips, a treasure hunt and an evening event in the historic city of Mdina with a banquet and a celebration of the staff and their achievements.
CEO Russi Batliwala says: "Reaching 45 years is a brilliant achievement and we look forward to seeing what the next chapter brings. It's our people who make the business what it is today. I've been with Chapman Freeborn for over 30 years and many of my colleagues have also been with the company for 10 and 20 years or more.
"It was great to spend a weekend away with so many familiar faces as well as the talented new starters coming through."
The group was established to market Alaska International Air's fleet of Hercules freighters, for which it found ad-hoc charters and longer term contracts across the globe. Over the years it has grown organically and through acquisitions, and today the company has offices in north America, Europe, Africa, Asia and Australia.
Contact details