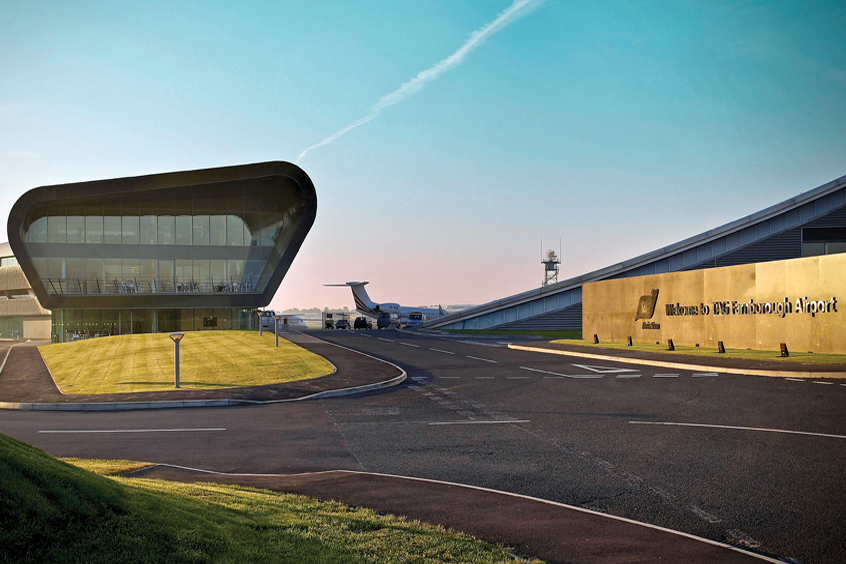 What do FBOs bring to the air charter experience?
Read this story in our FlipViewer digital magazine.
A certain widely-known English petrol head, former Top Gear television presenter and man of loud opinion recalls his own experience onwards through a private jet FBO on his way from the UK to the south of France, saying: "You have to sit in a room full of bores reading magazines packed with watch ads until it's time to get on your plane, where you drink champagne from a screw top bottle and eat curled-up cheese sandwiches." I can only imagine your horrified expression as you read these words so I ask what, in fact, do FBOs bring to the business aviation industry?
What influences choice?
One of the many benefits of avoiding commercial airliners and airports are the FBO facilities that clients can use on departure and arrival, as a place to relax and work before and after the flight. However, their quality can vary significantly between airports, even among those located at the same airport, which is why brokers need to choose wisely if they want to keep their clients happy.
Clients are generally HNWIs who are accustomed to a certain standard of service, so when it comes to choosing the right FBO, a balance needs to be found between what services the operator can organise and what the broker, and the passenger, want. On the one hand, operators look at price, payment terms, discounts given and level of efficiency. On the other hand, brokers lean towards superior services and amenities.
Hong Kong-based Asia Jet senior sales manager Jeffrey Chiang says that in terms of amenities, the bare minimum for any FBO should be a well-stocked bar, a range of non-alcoholic beverages and snacks, a wide selection of newspapers and magazines and reliable wi-fi. These are the equivalents to airport lounge offerings. "This is probably all that there is time for, given that FBO visits tend to be brief," he says. "The very concept of business versus commercial travel is an exercise in efficiency, therefore there is not often a huge amount of time to spare at the FBO."
Massachusetts broker Magellan Jets VP support and services Todd Weeber agrees. The objective of any reputable broker is to build a flight experience for clients and members that is so well-coordinated and communicated that the need to wait or meet in an FBO is mitigated, and in many cases unnecessary. The selection of such a facility is just as important as the selection of an operator, or of performing a safety and feasibility check on an airport.
Magellan Jets uses a proprietary scorecard and case management system to evaluate the potential and measure the results of every element of the supply chain, and invests in the necessary resources and infrastructure to be able to specifically match the requisite amenities and services to the needs of its operators and clients. These include, in order of importance: safety and process (ISO) certification; proof of service and operations training; operating hours; de-icing, hangar and catering facilities or accommodations; reasonable facilities with comfortable lounge and workspace; and a knowledge of local vendors and practices.
The overriding requirement is that an FBO be excellent at communicating. "They often overlook the fact that they are the hub for every element of a successful pickup and drop-off and that precise, concise and accurate communications can make or break an operator or client experience," says Weeber. In this way the company has become a loyal customer of what he calls some of the best undiscovered FBOs in the US.
Timings and efficiences around the world
There are currently around 160 business jets in Nigeria, particularly in and around its capital Lagos, according to Nigerian advisory, consulting and brokerage End2End Acquisitions CEO Olufemi Akinrotimi. He says Murtala Muhammed International airport is a gateway to the melting pot for commercial activities in sub-Saharan Africa. Despite the limited number of runways available, and a lack of immediate maintenance resources for aircraft which means that almost all maintenance is performed outside the country as opposed to having an MRO that attend to their needs, on a daily basis between 30 to 40 jets may take off, land or park at its FBOs. Two of the most prominent there are Evergreen Apple Nigeria (EAN) and Execujet Nigeria, and as ex-CFO of EAN Akinrotimi recalls the considerable investment made by the company when it designed its own lounge.
"Top notch customer service must start at the gates and continue through to boarding within an atmosphere of sophistication and peace," he says. The sale of excellent and unforgettable experiences to the client is, after all, a broker's raison d'être, so the transition of passengers through an FBO must be seamless, right up to the point they board the aircraft.
Key factors that influence the choice of Dubai-headquartered ASM founder and CEO Vito Gomes are the luxury of having a client's aircraft parked just a few steps from the FBO facilities, and that the FBO itself should facilitate immigration and customs clearances. Well trained staff must always be ready to assist passengers and to deliver special requests like a red carpet welcome for VVIP passengers, VIP stairs, flower arrangements or special catering requirements. He expects the FBO team to arrange for handling and fuelling in such a way as to ensure on-time performance, and if dedicated ground transport is needed to disembark passengers and crew in close proximity to the aircraft, FBOs must accommodate some very sensitive customer security and privacy concerns.
ASM's particular interest is triggered by how traffic is handled during peak seasons; how well staff cope with high volumes of arrivals and departures and the passenger-friendly layout of facilities. The best FBOs offer customs, immigration and quarantine clearance for passengers and crew on board the aircraft. "Becoming a trusted ASM FBO partner is not an easy assignment," says Gomes. "Our executive team regularly reviews FBO performance against our bespoke service requirements."
In the London area, some Volanteus clients like to use Northolt airport, given the short distance to the city centre. Others prefer TAG Aviation at Farnborough airport as it is dedicated to business aviation, some choose the historic charm of London Biggin Hill and art lovers like XJet at London Stansted. Neighbouring FBOs may exhibit different personalities, such as Jet Aviation and TAG Aviation at Geneva, so account manager Alina Minaeva likes to meet and greet passengers in order to observe procedures at first hand.
Some clients need private conference rooms or office suites to work in, others prefer to have a room to themselves. Celebrities require privacy while sports teams need a lot of space. "There are even times when cultural differences must be accommodated, and some FBOs offer separate lounges for female and male passengers which could be an important factor for Arab clients. And then there are those who fly with pets, and who like to take them for a walk on the grass before a long journey," she says. And for this reason she will encourage operators to use a specific FBO for a specific client, even if that attracts additional costs.
"Sometimes we are lucky to be provided with an FBO at all, let alone given a choice," says Artist Charter director Elliot Bottomley, although he acknowledges this comes down to the low cost/quick solution nature of many of the charters his company organises. But he does undertake a fair amount of business across South America, and its for these missions that he pushes the operator towards a good FBO. "Unless we do, passengers may be processed through the main commercial terminals of the airports and this adds time both in transit and through immigration, not forgetting the additional stress it causes, especially during peak hours."
In Buenos Aires for example, passengers often request to use Jorge Newbery International because of its location within the city, but the FBO is closed now, although 10 handlers remain. So for charters during busy periods he does his best to persuade clients to use San Fernando instead, a dedicated private aircraft terminal just 20 minutes from the centre.
The only time clients grumble about an FBO is when passenger numbers are at their highest, during peak summer season, and Bottomley adds: "For those FBOs that cannot handle the numbers then the only answer is re-investment and expansion, much like Signature at Luton did so well in response to becoming one of the busiest airports in Europe."
Familiarity and fuel prices
Le Bas International COO Tracey Deakin finds that many clients prefer to go to familiar places. And while each visit needs to be a good experience for them, for the agent it can be 'just another flight'. "Today's passengers are really at the top end, and airports that accommodate executive aircraft tend to have better FBOs because they really understand this client relationship," he says. He finds that with the larger FBOs there is a corporate stamp; the same character throughout every location. Smaller FBOs can be much more individual.
But for an operator the benefit with a chain is the guarantee of a certain landing fee rate or fuel price, which means there is no need for time-consuming research, says Florida-based Privé Jet COO Andres Arboleda. And as a broker he himself prefers a company that has a consistent quality, look and service. "I think there are very few individual FBOs that go above and beyond or look completely different and amazing. It is hard to predict what the level of service will be at a boutique FBO."
South Florida-based Unity Jets director of operations Garrett Grossberg also has clients who specifically request the same FBO every time. It may be because they like their routine, the location suits them or it is particularly comfortable, but he adds: "It may come down to a small detail such as a liking for coffee from a specific machine in the lobby before they board."
According to Arboleda, US operators will be looking for the best fuel rate, and many have contracts that allow them to save anything from 20, 30, 40 cents on the gallon, while brokers want the nicest FBO for their client. "But there is a sacrifice here that neither party really understands; the difference in fuel prices may come to $2,000-$4,000, especially
if you are on a heavy jet," he says. So it's not just the dollar cost of going into any particular FBO, it's more the difference on the fuel price that's important. "Many passengers only need to use an FBO to go to the bathroom, and it is often possible to drive all the way up to the aircraft anyway."
Given the competition in today's FBO industry, pricing can play a big part in any decision, and India-based AJM founder Atiesh Mishra gets good feedback from the flight crews who spend a significant amount of time at any number
of FBOs. He notes that Global Network companies such as ExecuJet Aviation, TAG Aviation and Signature Flight Support can offer substantial discounts to operators who sign a Global FBO Usage Service agreement that are not available from a boutique FBO.
In a previous employment he operated flights to London Luton airport, during one of which a passenger insisted on having Indian vegetarian food on each sector. "I remember that we had a very short stop in Luton, and Harrods Aviation went out of its way to send the FBO staff to collect food from a vegetarian Indian restaurant and deliver it on board in time," he says. "We ended up with a happy and very satisfied customer."
Pilots and crew are important too
Dubai-headquartered UAS International Trip Support will measure all factors against a client's unique requirements and demands. But equally important are the facilities offered for the crew and the passengers, particularly where the immigration process is integrated. "The crew rest area and briefing area are just as important," says co-owner, founder and executive president Mohammed Husary. "The crew need modern facilities for flight briefing, printing and communication." He notes too that service is still important; clients expect all the comforts of a hotel as well as punctuality, courteous staff and a clean, modern facility. "Ideally, concierge skills should be the same as you would experience in any five star hotel," he says, adding that the FBO should provide the same exclusivity and privacy that the client experiences on board a private aircraft.
Paris-based HeliPass has long used Jetex at Le Bourget airport as it offers easy access for customers arriving by car and the FBO will arrange transfers downtown via limousine service. On the ground level there is a general lounge, and upstairs a private lounge for the private jet passengers and pilots with good wi-fi. "You have to look after both pilots and passengers," says president Frédéric Aguettant. "And there is a bedroom and shower for the pilots to use."
But he finds the overriding requirement tends to be for privacy. On one occasion Aguettant had two separate customers, well known within the movie industry, who needed to meet up to discuss a confidential deal for their next film. One was coming from southern USA, the other from Europe, and they managed a meeting in a Texan FBO. The difficulty here was that FBOs ask for passenger names, but in this case his clients had insisted on confidentiality. In the end the booking went ahead but the FBO was given the names only at the last minute, as they landed.
HeliPass also manages a small FBO for helicopters at the Paris Heliport. Helicopters can be hangared for a couple of days or more, and passengers have access to a lounge, meeting room, coffee, tea, soft drinks and private car parking. Pilots too are catered for; they have space to do their flight plans, get Jet A-1 or rest. Aguettant adds that looking after helicopters is an entirely different experience to aircraft. They need quite a bit of space as they create a lot of wind, and for this reason they tend to get parked some distance away at the far side of an airport. He always asks to land alongside the aircraft to be sure the client can disembark and go directly onto the jet, avoiding the FBO altogether, but he recalls one helicopter trip he took from downtown New York to
John F Kennedy International airport where he had to land so far out that they had to organise a car to come and collect them, and that took a long time. "So for the next flight we arranged ahead for a car to drive us directly onto the taxiway, and that was much more convenient than going through public areas," he says. "It is very important that FBOs take care of things like that."
Brokers and FBOs both depend on each other for business says UAS's Husary, so it's a mutually beneficial relationship. The FBO must support the broker, who has to satisfy the client, and the broker must support the FBO by giving direction and knowledge about the client; are they arriving late or early, or do they have any special needs? "The FBO is the face of the broker," he says.
While there are daily challenges with parking slots and ATC slots at major airports, during the 2008 conflict in Lebanon one Beirut FBO even went so far as to stay open during a road blockade. Its staff slept at the FBO and ate biscuits for the duration. "This is what a good FBO should be willing to do for clients," he adds.
"What makes an FBO extraordinary is the people working there and their ability to make things happen," he continues. Having the right contact person for every possible situation will make the difference, whether its knowing who to go to for special requirements for handling, contacts at local maintenance companies, special catering requirements or connecting incoming crew and passengers to the right embassy or a doctor who speaks their language. At any FBO, the service experience is important from the moment the doors of the aircraft open until they close again for departure.
A lack of accountability is a major irritation
"Aircraft go to facilities to be handled by either FBOs or handlers, and the importance of that choice should not be underestimated," says Deakin. "If the handling agent gets it wrong, as can happen, it can be costly."
But the impact is compounded if neither they, nor fuellers, take responsibility for their mistakes.
He recalls a time when baggage was left off a VIP DC8 flight. "The handling agent forgot the CEO's medicine and as she needed to take it every night we had to send it on in another corporate aircraft, at our own expense," he says. "The handling agents didn't want to know anything about it." That sort of mistake makes a huge impact on a broker, not only financially but with the client relationship. He has also had instances where catering was not delivered, and where a client was held up because of a delayed fuel bowser. While handling and fuelling are intricate operations, he feels there should be more support for the broker when things go wrong.
"A poorly handled flight can mean that regardless of the efforts of both the broker and operator, the end result gives the impression of a lack of attention to detail," says Chapman Freeborn private jet charter manager Steve Huddlestone. "They can be the first to greet our passengers on departure and arrival, so good attitude and conduct is vital. It can even reduce the impact of an operational issue."
In many circumstances choice is restricted either by availability of providers at an airport, or choosing an alternative FBO outside of the operator's multi-base agreement that would increase the price, but in 45 years there aren't many places Chapman Freeborn hasn't travelled to and the team has made a point of building relationships with its providers.
In a busy FBO there is always the possibility of letting things slip: passengers not greeted, fuelling arrangements or de-icing forgotten. "The possibilities are endless. We put our trust in the FBO and the operator to make sure our guests get the best, and when this doesn't happen, for whatever reason, it lands on the broker's doorstep," Huddlestone adds. Worth noting though, as Florida-based Monarch Air Group director of charter sales Ryan DeBruyne points out: "When the FBO service is flawless, the broker comes out well."
Probably the hardest thing for a broker is not having full control, according to Grossberg: "We are directly in the middle of most transactions and our clients pay a lot of money for our services. They expect perfection every time but we don't fuel or fly the jets, nor do we prepare or deliver the catering or the car services." He tracks every step of a client's experience, but often has to call the FBO for confirmations, and occasionally an employee has been rude or has communicated poorly just to get him off the phone.
So relationships are important, and while there are plenty of great FBOs around the world one that, for him, really stands out is Atlantic Aviation at Philadelphia International airport. On one occasion Grossberg received a late night request from a client regarding an early morning flight the next day: "He needed a specific bottle of tequila because he was looking to impress the CEO of a company he was potentially acquiring." He called every caterer and liquor store in the Philadelphia area but to no avail. No one was open. In the end the manager at Atlantic offered to go out early the next morning, wait at a nearby liquor store until they opened and pick up the bottle of tequila. "He came through for us and a beautiful relationship has formed as a result," says Grossberg. "We know that we can depend on them."
Hunt & Palmer manager, executive aviation Julie Black used to be responsible for the customer service teams at two busy FBOs before becoming a broker, and this has given her an insight and certain expectations that shape the way she works. "Regrettably, in these times where it's all about cost, many FBO choices are made by operators on the grounds of contract fuel rates and with little consideration of the passenger experience," she says. "In my opinion that breeds an air of complacency in some of the larger chain FBOs who are fortunate enough to gain a volume of throughput off the back of that."
She acknowledges some great independent FBOs such as TAG at Farnborough, Inflite at Stansted, the IAM Jet Centre in Barbados, the Business Aviation Centre in Hong Kong and CAT Air Service in Zurich. "These guys are well set up to deliver great service to the travelling passengers while serving well the operational needs of the aircraft," she concludes. "As a broker I appreciate that."
What needs to change?
Trends change and expectations elevate and diversify. "In recent years we have seen a range of wellness services emerge in client requests," says Chiang. "These can range from on-site massages to concierge health and beauty services. Personalisation is a huge trend in luxury travel and particularly in the private jet sector." He expects this to grow, although the basic principle remains that high service standards rather than gimmicks underpin client expectations.
In a competitive market space, Chiang feels the need to be proactive in anticipating client needs. He would like to see a service whereby clients can arrange shipping of excess luggage directly from the FBO. "It is common for clients to purchase extra items before their return flight and there is often simply not enough space in the luggage hold or cabin to accommodate these newly-acquired goods," he continues. "Having a shipping service readily available would give clients greater flexibility."
Deakin feels the FBO industry is absolutely not where it should be. "They need to recognise just who the client is," he says. "If you lose track of who the client is, and how important they are, then you can lose business." And Black agrees: "I know that FBO management and customer-facing staff appreciate that they are operationally necessary, but I genuinely don't think they realise sometimes how much of an important part in the flight chain they really are." FBO staff are one of the few people who will have face-time with passengers so no matter how brief the contact, the confidence to look passengers in the eye and be warm and friendly is so important. Many times she has reached out to an FBO in advance to discuss the mobility needs of a passenger, or the sensitive nature of a flight, and requested some specific due care. And many times that information has not made it down the chain to the on-duty team on the day and all her careful planning has gone to waste. "It's frustrating when you get a call from a client afterwards saying the wheelchair we asked for wasn't there, because bad service at point of operation makes us look like we haven't done our job."
As a broker who spends a lot of time at a desk moving people on aircraft all over the world, she loves an FBO that can tell her where the passengers are and how they are. She and her team are hungry for information and inaccurate information is frustrating at best, and makes the broker look like a fool at worst. More than once she has been told that passengers are boarded, or an aircraft has departed, only to find that they are still waiting in the lounge. "Or worse, the phone doesn't get answered and I get a voicemail."
So Black's plea to FBOs and their personnel is to pay attention, be attentive and be proactive: "If you see young children or elderly passengers on a manifest, make sure you have resources dedicated to provide assistance to that flight. Don't wait to be asked. The kind of people who charter private jets take great service as a given. A fancy lounge or swanky canapés are no compensation for poor service or surly personnel who look like they fell in a hedge on their way to work."
As today's major airports get busier with scheduled services, Huddlestone says that the FBO will work to ensure his chartered 13-seat executive aircraft gets its rightful place in the queue for services against the 148-seat or greater scheduled carriers. "FBOs remain, and will continue to be, a vital and valuable part of our business," he says. "They are our eyes and ears and make sure that together we provide a seamless and enjoyable experience for our passengers."
Asia specifics
Asian Sky Group charter services manager Serena Lui notes that within Asia, and most specifically China, there is usually only one FBO option at most major airports, which means there is no choice. But while an FBO in a remote area may not be as luxurious as an FBO in a more traffic-heavy area, its staff may go out of their way to make a client's experience as smooth as possible.
In the Asia Pacific region, the lack of business and general aviation infrastructure is a major challenge. With commercial aviation taking priority, business aircraft are given limited landing/parking slots and for a charter broker this is a significant issue. If a client wants to depart at a specific time in Hong Kong that time slot may not be available. The client would then need to reconsider the departure airport, leaving instead from Shenzhen or Macau. "Because of the lack of space and operational flexibility at airports, there are certain services that simply can't be done," says Lui. "Improving the operational environment and enhancing the business aviation infrastructure will require an understanding from outside of the industry of just how important business aviation is."
AsiaJet's Chiang notes that while options may seem limited, clients are still provided a range of amenities and excellent customer service. "Take Hong Kong Business Aviation Centre," he says. "Although it is the only FBO at Hong Kong International airport for private jets it consistently receives praise for its high level of customer service. Its IS-BAH accreditation also means that the passengers, crew and aircraft will be taken care of professionally and that the highest standards of safety will be strictly adhered to at all times." As luxurious as private jets can be, he feels the majority of clients are not looking for bells and whistles. In fact, primary priorities are for a quiet space to work or rest, good quality refreshments and privacy.
For FBOs across Asia, space is always lacking compared to those in other parts of the world. This will certainly affect passenger privacy, especially when celebrities are involved, so the FBO staff must anticipate such problems by arranging a private room or managing the space efficiently. Chiang thinks that more could be done to enable airside car access, which is still something of an anomaly in Asia. And having a greater selection of FBOs across the region would further enhance service offerings and keep prices at a competitive level. Given the growth and maturity of business aviation in Asia, he thinks FBOs will need to gear-up to meet the demand and expectation of the client base. This will include expansion of services, greater choice and, of course, enough space to accommodate growing passenger traffic without compromising on service and safety standards and client expectations.