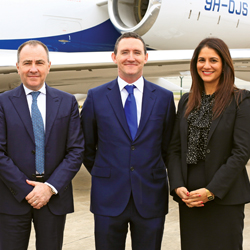 OJets CEO Nick Houseman (centre) with Elit'Avia chairman Michel Coulomb and CEO Puja Mahajan
OJets acquires aircraft management and charter company Elit'Avia
Singapore-headquartered OJets, a recently launched provider of business aviation services, has acquired Slovenian aircraft management, charter and services company Elit'Avia. The acquisition gives OJets access to worldwide markets and enriches the company with decade-long operational expertise.
OJets has recently completed the purchase of a Global 6000 and a Challenger 650 from Minsheng Financial Leasing Co and has pledged to buy more within the next 90 days. Alongside this the acquisition expands OJet's total number of owned and managed aircraft from two to 23, and permits operations to be managed under the Maltese AOC that Elit'Avia has held for years, and which allows global access including flights to the USA. Furthermore, the acquisition boosts OJets' total service offering by integrating aircraft management and charter with private fleet operations.
OJets is led by business aviation veteran of 20 years Nicholas Houseman, who has co-owned Elit'Avia since 2011 and who founded Zenith Jet in 2008. Previously, he held senior management roles at Bombardier Aerospace. Elit'Avia chairman Michel Coulomb and CEO Puja Mahajan will continue to serve longstanding clients and manage the day-to-day operations of Elit'Avia as a wholly-owned subsidiary of OJets.
CEO Houseman says: "OJets represents the optimisation of luxury business aviation services. With our private fleet we are responding to current market conditions by minimising capital commitment and eliminating asset risk.
"Under Michel and Puja's expert management and steady guidance Elit'Avia will continue to serve existing and prospective clients with industry-leading aircraft management, charter and VIP travel services. Collectively, our clients will benefit from access to more aircraft and more pilots, and an extended global reach with fixed operations and offices in Asia, Europe and North America. Our vision is to draw from our strengths to offer an unprecedented level of service."
Contact details