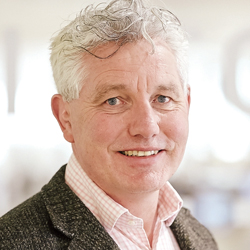 Mike Ryan says Victor's ambition is to use carbon neutral fuel for 100 per cent of flights by 2020
Victor launches carbon offset programme with Air BP
Victor launches carbon offset programme with Air BP UK-headquartered charter platform Victor has launched a carbon-offset initiative for private flights in Europe in collaboration with Air BP. This will assist operators and customers in meeting industry deadlines covering fuel efficiency and reduced environmental impact, and is conditional on partici-pating operators using Air BP fuel for Victor bookings wherever feasible.
Eligible flights are transpar-ently flagged on Victor's digital marketplace and flyers will have a record of carbon credits added to a digital flight log that they can access quarterly. These credits guarantee that carbon emissions for the fuel used on eligible flights are offset through investment in eight global BP Target Neutral carbon reduction projects around the world.
The volume of charter booked through Victor's platform by operators signed up to this prog- ramme has grown an additional 46 per cent this year versus standard operator bookings. Over three quarters of Victor's customers who opted into the scheme have received quotes for flights where carbon emissions for the fuel used will be offset.
Co-founder and head of supply Mike Ryan says: "This programme offers an instant opportunity for operators to advance their carbon reduction plans ahead of several crucial industry deadlines, while further validating the role of private aviation to the customer as a driver for global economic, social and cultural development."
Contact details