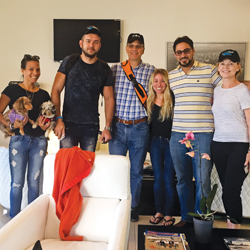 Adam Steiger, here second from right with his wife third from right, with rescued clients on safe ground having left Puerto Rico
After the storm...
Following the devastation in the US and the Caribbean left by Hurricanes Harvey, Irma and Maria last year, the office of Florida-based Air Charter Advisors (ACA) was inundated with telephone calls and incoming website requests. Now more than six months have gone by and the company is still catching up with all other enquiries from the last quarter of 2017. President Adam Steiger talks about how he and his team dealt with some of the heartbreaking requests from the families of those in the path of the storms.
"We received thousands of calls and hundreds of online requests every day from people across the globe seeking help for themselves or for their loved ones who were stranded on different islands, including people in emergency conditions," says Steiger. "It was heartbreaking to hear the calls for help, especially when unable to accommodate most of them."
He recalls that some of his staff had to take a step outside after being on the phone with callers describing the desperate situations in which family members found themselves. But thankfully the company was able to assist with hundreds of Caribbean evacuations, mainly from the San Juan, Puerto Rico, area which was one of the worst hit locations.
In late September, following Hurricane Maria, ACA was for the most part organising mid-size and super midsize private jets for families that could afford private aviation to make a fast evacuation from Puerto Rico. "We also sent teams of rescue workers and disaster recovery companies to the islands on heavy jets, transporting 10-14 people at once with rescue gear," he explains. "However, to perform these flights into the region, the airports were only allowing us to arrange the trips if they were 'humanitarian', and not purely transport. Unfortunately for many people it was not possible to book a flight to join their families on the islands, anyone going inbound had to be helping with special services relief efforts, or bringing in goods to drop off and get out immediately."
ACA donated multiple empty leg flights, filling up aircraft with thousands of dollars' worth of supplies; items such as cases of water, dry foods, medicines, hygiene products and baby products. "We were sending down empty legs filled with relief items, and in this way we could pick up travellers and help get them out of harm's way on the return," he adds.
ACA also chartered Boeing 737-400 and Boeing 737-800 airliners from local carriers to evacuate larger corporate groups and insured parties of up to 150 passengers at once.
Contact details