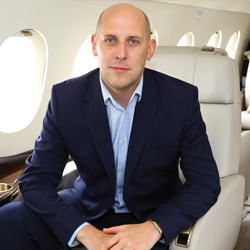 Head of group broker desk at LuxAviation Christopher Watson
Luxaviation's group broker desk enjoys a successful first year
Luxaviation has reported a successful first year of operations for its London Luton airport-based group broker desk network. The desk works by uniting all operators in the Luxaviation Group, giving brokers an overview of the group's entire fleet and availability. The desk also has satellite offices in Moscow, Miami and Hong Kong that allow brokers to speak directly to the Luxaviation team based in their own time zone, resulting in faster quotes, a simpler payment process and better cultural business awareness.
Head of the group broker desk Christopher Watson says: "The development of the network over the past year has been very rewarding across all regions, but particularly in the US and Asia where we are seeing more brokers engaging with us to source aircraft. We pride ourselves on delivering a local service across a global aviation network. We are able to communicate and deal with brokers in the way they want to work. We just would not get that business if we did not have people on the ground."
Head of the Hong Kong broker desk Maggie Wong says: "Chinese culture and the ways in which we communicate differ from the Western style. Social media is extremely important in our region and we've worked hard to develop channels that foster proactive conversation. Also, by holding regular face-to-face meetings and speaking to brokers on their level, in their language, we create lasting relationships within the Chinese community and the wider Asia region."
The company also reports that new Eastern European destin-ations have proved increasingly popular among private flyers. While Geneva and Lyon remain the most popular winter destinations for access to the Alps, and Frankfurt attracts visitors to its Christmas markets, Luxaviation has seen a significant increase in flight requests to Eastern European airports such as Ljubljana Jože Pučnik airport in Slovenia; Sofia airport in Bulgaria and Skopje airport in Macedonia.
Luxaviation UK MD George Galanopoulos says: "Eastern Europe is definitely on the rise as a winter destination for our customers. As well as quicker access to the quieter slopes where there is always good snow cover, customers enjoy the historic village-style locations, traditional drink and cuisine and really stunning scenery.
"In the past few weeks, we have provided more quotes than ever before to the region. Ljubljana provides access to the Pohorje Mountains, a favourite for night skiing; Sofia is only a short drive to the popular Bansko resort in the Pirin Mountains and Skopje is just 90 minutes from Popova Sapka where excellent snow cover is virtually guaranteed between January and March."
Contact details