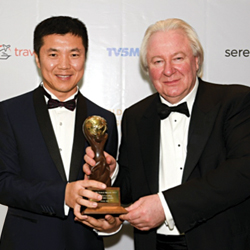 President of Deer Jet Xu Lidong and president of the World Travel Awards Graham Cooke
Deer Jet makes maiden Antarctic landing
Deer Jet conducted China's first passenger service to Antarctica when its Gulfstream G650 took off from Hong Kong International airport with 22 passengers on a 15-hour journey to Cape Town airport in South Africa. There it refuelled before heading to Wolfs Fang Runway, located in Dronning Maud Land, Antarctica. This flight marks the launch of a charter service between China and Antarctica, providing access to one of the world's most remote areas.
Preparations had taken over a year, during which time Deer Jet conducted and evaluated hundreds of risk tests, flight routes, flight support and emergency plans to assure a flawless and safe operation.
The company has also been named, for the third consec-utive year, the world's leading private jet charter at the World Travel Awards, which were celebrated at the JW Marriott Phu Quoc Emerald Bay hotel in Vietnam in December. The company credits its 787 Dream Jet round-the-world exhibition.
President Xu Lidong says: "Once more the World Travel Awards acknowledged Deer Jet for its unique services. This award encourages us to push the bar even higher as we go on a journey reaching new markets. We want to enable the world to enjoy our signature Seven Stars experiences."
Contact details