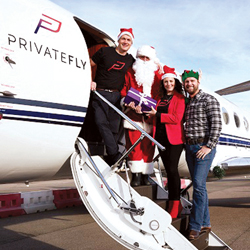 PrivateFly CEO Adam Twidell, marketing director Carol Cork plus Harrods Aviation director of sales and marketing Will Holroyd join Santa to welcome guests onboard their G450
Above and beyond: Charitable works give Santa 'claus' for celebration
The festive season is generally felt to be full of comfort and joy, and for two UK-based private aviation companies in 2017 their cups runneth right over.
PrivateFly brought some 'Ho Ho Ho' to Harrods Aviation Luton with the opening of Santa's Gulfstream Grotto. While Santa is more usually to be found flying in a sleigh, one weekend in December he found himself onboard a Gulfstream G450.
PrivateFly hosted the family-friendly festivities for over 100 special invitees at the Luton FBO. Guests of all ages were able to enjoy the Harrods Aviation facilities and to have individual tours of the jet, which is operated by UK-based Pen-Avia and is a recent addition to PrivateFly's charter network. The aircraft was magically transformed into a unique Santa's Grotto for the occasion.
Festive canapés and drinks were served by inflight culinary concierge On Air Dining inside the lounge, and children were able to enjoy a visit and professional photo with Santa. They received a gift from PrivateFly and a Harrods teddy bear to take home. Guests were also invited to make a donation to children's charity St Elizabeth's.
CEO and co-founder Adam Twidell said: "This was such a fun way to celebrate the festive season and the end of a very busy year for PrivateFly with our clients, corporate partners and friends.
"The Gulfstream G450 might not quite be able to fly around the world in one night like Santa's sleigh, but with an impressive range of 4,350 nm it can fly our clients on transcontinental flights such as London to New York, or Paris to Dubai. It was an ideal opportunity to showcase both the great facilities at Harrods Aviation Luton, and introduce an impressive new aircraft in our charter network."
Also in December, UK broker ACC joined forces with Airbus, Eastern Airways and Bristol airport for the second consecutive year to put on a special festive flight in the name of charity.
Guests of the British Heart Foundation (BHF) and Children's Hospice South West, which is designed to create special memories for families with children living with complex health conditions, were invited to a Christmas party at Bristol airport where they enjoyed a choir and a magician followed by an hour-long flight over the Brecon Beacons mountain range in south Wales with Santa and his elves.
The flight coincided with BHF's Christmas Appeal, which raises awareness of congenital heart disease. One of the lucky few to be part of the Santa flight was Calum, an 11-year-old boy from Bristol who was born without one of the main arteries in his heart. Calum's mum says: "This is the first time that he has ever been on a large aircraft so we wanted to keep it a surprise for him. After all he's been through, multiple open heart surgeries and weeks spent in hospital, it was heart-warming to see the huge smile on his face as he boarded the flight alongside Santa. What an incredible early Christmas present."
ACC director of operations Glenn Hogben adds: "It was our privilege once again to be able to help children and their families make some treasured festive memories."
Contact details