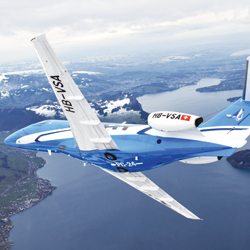 The PC-24 combines the versatility of a turboprop with the cabin size of a medium-light jet and the performance of a light jet
New kid on the block: Pilatus PC-24
EASA and FAA type certification for the first-ever Swiss business jet was achieved in December 2017 and deliveries of 23 aircraft are scheduled to take place during 2018. Pilatus says it is the first business jet designed to take off and land on very short or unpaved runways and to come with a cargo door as standard.
The PC-24 boasts a spacious cabin designed for quick and easy reconfiguration. The bespoke interior comprises soft leathers, rare hardwood cabinetry and a continuous flat floor. Carrying up to 11 passengers at a top speed of 440 nm and with a maximum payload of 2,522 lb, it also features an all-internal, pressurised and inflight-accessible baggage compartment.
The PC-24 has the operational flexibility to suit business jet, air ambulance and other special missions.
Contact details