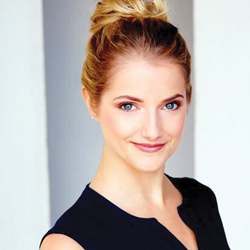 Millennial Tierney Malloy is an aircraft greeter for Jet Productions Worldwide
Jet Productions benefits from the millennial effect
California brokerage Jet Productions Worldwide has hired two aircraft greeters, Meg Aldridge and Tierney Malloy, to provide customer service for all its arrivals and departures out of Los Angeles area airports.
President Kim Scolari says: "As a boutique broker since 1998, I like to personally see off all my charters out of the LA area. It gives me a chance to really connect with my clients. The problem is I am usually busy managing the flight itself, arranging catering, organising cars or providing last minute itinerary changes and a host of other duties that require me to be in my office and by the computer, especially around the time the jet is departing. It's hard to be in two places at once. So I have hired two young women with the perfect personalities to provide excellent customer service to the client, as well as to add that millennial flair to the company."
Both Aldridge and Malloy are recent college graduates who relocated to Los Angeles from North Carolina in 2016 to pursue their careers. Aldridge earned a Bachelor of Fine Arts degree from the University of Michigan and Malloy gained a BA degree from Pace University in New York.
The role requires them to be at the FBO 90 minutes prior to passenger arrival so they can check the jet and the catering for quality control. They will also run any last minute errands for the charter, such as picking up food from the clients' favourite LA restaurant.
Once the passengers arrive they assist with luggage, boarding and ground transportation parking arrangements. They leave the airport only when the aircraft wheels are up, and then report to Scolari with feedback on the departure.
"These young women bring so much to the table, not just because they are eager to please our passengers, but also because they are intelligent and tech savvy," adds Scolari.
"Millennials seem naturally capable when it comes to technology. Whether its uploading a cool Instagram shot for our flyjetproductions handle, researching the fastest way to the airport on Waze, organising an Uber car or finding the best barbeque in the city, Meg and Tierney seem to get these jobs done very quickly. They have a quick response time on websites and social media sites because they are part of this technical generation. We feel very lucky to have the two girls on our team."
Contact details