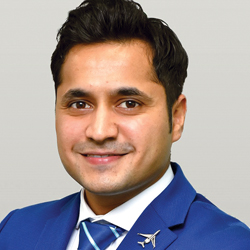 Larger premises will support future expansion for ACS in India says Ashish Wastrad
Air Charter Service invests in larger premises in India
The Indian operation of Air Charter Service has moved to new premises in Mumbai in order to fulfil the company's growth plans in the region.
Ashish Wastrad, managing director of ACS India, comments: "We now have very strong teams in both our cargo and passenger divisions, and we have consis-tently grown in terms of staff, revenue and number of charters since we opened the office here in 2012.
"We feel that now is the right time to move to larger premises to help us put our expansion plans into practice. Our new office is more than twice the size of the previous workplace and gives us enough room for the foreseeable future.
"In 2016 we saw a marked increase in terms of the number of charter contracts, up 20 per cent compared to 2015, and we have had a strong year in 2017 too. We hope that our continuous investment in the Indian charter market will keep our expansion strategy on course."
Contact details