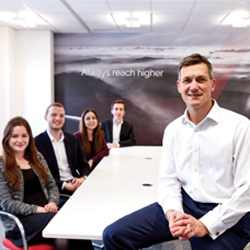 Adam Twidell's predictions team includes flight advisors Olivia Chevallier, Bradley Spence and Apolina Simonova with product manager Oliver Smith-Aichbichler
So what does 2018 hold? PrivateFly makes its predictions
During 2017, ACANA member and UK-headquartered booking platform PrivateFly saw its flight sales increase by 51 per cent year-on-year and average spend per flight grow by 19.7 per cent. As we move into the New Year, CEO and co-founder Adam Twidell offers five business aviation predictions for 2018:
On demand business jet charter, as opposed to outright or fractional ownership, will drive continued market growth in both Europe and the US, particularly via disruptive business models that offer enhanced accessibility and visibility.
Private jet users will get younger, and businesses will evolve to cater to them. Many people assume that the typical private jet customer is over 50, but PrivateFly saw the average age of its passengers drop to below 40. As millennials continue to enter the workforce, this younger generation will become the next private jet audience, demanding more choice, customisation and personalisation.
Increased consolidation has been noticeable over the past few years and the industry should expect more mergers and acquisitions activity, particularly among charter brokers. Both the customer and the industry would benefit from less fragmentation in this segment; the combined buying power of mega brokers is on the horizon.
New aircraft coming into service in 2018 are set to challenge some of the established models. At one end of the market is the Pilatus PC-24, a rival to the Phenom 300 which has been the bestselling new jet in the world over the past few years. Then there's the hotly-anticipated Global 7000, aiming to steal a share from the Gulfstream G650ER.
Payment transactions is another area ripe for disruption, and blockchain financial technology has the potential to become a much more mainstream solution in the industry. Payment in bitcoin, etherium and the rest may still be niche, but their popularity is growing rapidly.
Contact details