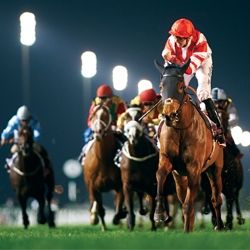 Dubai Racing and Sheikhzayedroad wins the group 3 Nad Al Sheba trophy sponsored by Emirates SkyCargo at the ninth Dubai World Cup Carnival meeting at Meydan
For some the world is a playground: lifestyles of the rich and famous
How do you manage air charter for the social calendars of the rich and famous, and what problems typically arise when large numbers of private aircraft are trying to land at the same place? From the Monaco Grand Prix to the Gumball Rally, and from Seoul's Winter Olympics to Russia's World Cup, we talked to air charter brokers about the sort of ad hoc operations they may organise when the wealthy take time out to focus on the social side of their calendars.
The travel patterns of the rich and famous follow a rather wonderful global calendar that includes art, sport, film and music. US traffic magnets include the Super Bowl, Kentucky Derby, Masters Golf Tournament and Art Basel in Miami. The 2017 Super Bowl LI alone attracted around 1,100 aircraft; a little under 10 per cent of the country's total private fleet. Thanksgiving is always busy, and the Colorado Rocky Mountain resort of Aspen is particularly popular in winter for the skiers.
In Europe, the May triple bill of the Cannes Film Festival, Monaco Grand Prix and then the French Open in Paris can bring around 6,000 movements to and from the airports of the French Riviera. The Middle East expects Expo 2020 in Dubai and the FIFA World Cup 2022 in Qatar to bring a lot of traffic its way, but in the meantime horse racing's Dubai World Cup in March is an annual and well-attended treat.
Who wants to be a millionaire?
Every year Air Partner manages the travel arrangements for individual and corporate group fans for the European Champions League final and for art-loving clients to visit Art Basel in Miami, which offers a premier platform for renowned artists and galleries. "Our experience and relationship with our most frequent clients means that we can often pre-plan their trips to these events before they have even thought about it themselves," says trading manager, private jets UK, Marcos Torre. His team starts advising and locking in plans early so there is more availability and more likelihood of securing the aircraft of choice ahead of time. It specialises in last minute logistical planning that makes even the most remote location convenient and accessible for its clients.
The 2018 FIFA World Cup will be an important event for Air Partner as clients, and especially groups, will rely on its expertise to navigate Russia's complex travel network. The 2018 Ryder Cup in Paris in September is another important social event and it is already taking enquiries for private jet travel.
Farnborough airport, UK-based Diamonté Jets specifically curates jet escapes based around the HNWI social calendar and a large proportion of its jobs are based around these events and experiences. CEO Rohan Mark Jayawardene says: "May is always by far our busiest month of the year with the Cannes Film Festival, Monaco Grand Prix, Europa League and the Champions League finals all taking place."
For flights around Europe the company generally uses light to mid-size aircraft to best offer comfort while maintaining cost-effectiveness. Certain clients demand heavier aircraft of course, and for long haul flights some don't want the fuel-stop so it may organise perhaps a Bombardier Global or a Gulfstream G-V.
Both Nice and Cannes airports attract high volumes of traffic in May but last year was particularly challenging for Diamonté Jets as, for the first time, the close of the film festival and the beginning of the Grand Prix weekend overlapped. "On that particular Friday night we had a big artist coming in to perform at an event and leave straight afterwards at around four in the morning," says Jayawardene. The artist was due to come in and out of Nice but the volume of traffic meant that it was impossible to park for the necessary six hours. Jayawardene and his team were on the phone the entire night trying to get a slot back in but to no avail. Instead the pilot had to drop the passengers off and reposition to Marseille as both Cannes and Genoa were also full. However, it then became impossible to gain a slot to come back into Nice so the only solution was for the artist and his team to travel by road to Marseille; a journey of around two hours. "Safe to say he wasn't happy about that," he continues, "but given the conditions, and the fact that several other aircraft were being repositioned as far out as Milan and Geneva, this was the only viable option for him to get back to London and continue his tour."
One of the more obscure and interesting events the company recently managed flights for was a festival at the ancient village of Hampi, a UNESCO world heritage site in the south Indian state of Karnataka. Aside from local politicians, VIPs and Bollywood actors, 24 beauty queens and beauty pageant title holders from all over the world had been invited and Jayawardene was tasked with flying them over. Hampi is 15 hours by road from the closest major city, but it does have a small airstrip. So his team arranged for all the girls to fly first to Bangalore, and then for a Citation CJ2 and Caravan to shuttle 12 at a time to the festival site.
And go to every swell affair?
"I'd have to say that nothing surprises me about the clientele I attract," says Massachusetts-based GloryJets president Randy Echavarria. "They live extraordinary lives." He has arranged flights to cattle expos; the Gumball 3000 celebrity motor rally; the Running of the Bulls in Pamplona and La Tomatina tomato festival in Buñol, Spain; Art Basel in Miami; and fashion weeks in New York and Milan. And when one aircraft was not enough for a particular international VIP he chartered two with multiple legs to fly around several continents over a number of days.
Luxury safaris are perhaps an all-year-round experience, but a favourite trip organised by Uganda-based KE Aviation was in December last year when it flew a group of five VIP travellers into Bwindi Impenetrable National Park to track the famous silverback mountain gorillas. From Kajjansi airfield in Kampala the drop-off and pick-up went smoothly, but since gorilla tracking usually means quite a hike, as does any safari, the clients appreciated the offer to skip the road travel and opted for a fast one-hour trip on a PC-12 instead. "What was their take on the experience? Breath-taking and thrilling, a little gem of an experience," says marketing director Isabella Tustanovska.
Who wants to ride behind a liveried chauffeur?
Formula One packages are a particular hit for the clients of Diamonté Jets, who have been doing Monaco for the last six years and Abu Dhabi for two. The guest list for these events is growing and last year the company sponsored and filled the biggest yacht at the Abu Dhabi Grand Prix, Serenity, a 72m motor yacht. "We were joined by the likes of British rapper Tinie Tempah, Moroccan-American hip hop artist French Montana and British professional boxer Chris Eubank Jnr so it was a lot of fun," says Jayawardene. And this year he has already had requests for the Shanghai Grand Prix and bookings for the one in Abu Dhabi.
Big Game Air is a luxury event brokerage in Chicago designed specifically for the HNWI and corporate group entertaining. It typically flies heavy jets but has used super-midsize as well. Since its launch in August 2017 it has coordinated more than 20 flights to high demand sporting events and so far this year is already amassing charters for the Super Bowl, PGA Masters and Kentucky Derby.
The company differentiates itself from other charter brokers by handling every detail throughout the entire day for these trips, including ground transport, tickets to the events, dining and nightlife options. CEO Arturo Gomez says he has seen around 35-40 per cent return business in just the short amount of time the company has been active.
Jetex Flight Support organised an interesting European charter last summer for the MTV Summerblast 2017 festival in Porec, Croatia. A group of family, friends and production crew travelled from London Farnborough to Pula in Croatia, and then on to Manchester and Blackpool before finally returning to Farnborough. The trip involved two Challenger 850s, one BBJ 737, helicopter transfers, yacht charter and multiple ground transfers for a headcount of 46 people, and was memorable because it involved all the different segments of the Jetex business. Not only were the charter division, the lifestyle division and VIP representatives for ground handling liaison involved, but the company arranged hotel accommodation, yacht charter with helicopter transfer, security detail and all ground transfers. "We also encountered some challenges when one aircraft went AOG four hours prior to departure in the UK, resulting in some rapid action required from our team," says head of lifestyle Gabriel Meza.
A liveried chauffeur, do I want? No sir
Diamonté Jets also curates trips that include accommodation and ground transfers. "If you're into football, for example, and want to watch a famous El Classico game between Real Madrid and FC Barcelona, we're able to arrange a meet-and-greet with Lionel Messi and the entire Barcelona squad," says Jayawardene. "And for fashion events we offer access to all of the designer shows and after-parties, even a meet-and-greet with French fashion designer and stiletto king Christian Louboutin."
How do you stand out in the company of like-minded high net worth socialites? Is there competition to be in the biggest or the best aircraft? Meza reports that some clients show a preference for heavy jets and ultra-long range aircraft as not only are they conscious of the amenities offered onboard but there is a perceived level of prestige. And at Glastonbury last year Jayawardene saw a few groups go in and out with rotary aircraft; all R44s aside from one who made quite an entrance in an Agusta 109SP Grand. One-upmanship perhaps?
"Some clients want the latest technology and are keen to try the latest aircraft on the charter market," says Air Partner's Torre, "while others prefer jets that they have flown in before." Either way he prefers that clients give plenty of notice to achieve the best possible choice. Air Partner account managers are always available to meet with the client to ensure that all arrangements are prepared for and go smoothly, and the 24/7 global support team monitors flights and deals with any last minute requests. When there is a chance of the weather leading to disruptions the team gives advance warning to clients and, where required, organises alternative arrangements to ensure the client gets to where they need to be.
Who wants an opera box I'll bet?
Jayawardene thrives on the challenges and complexities raised by last minute bookings and changes. He enjoys the variety of sectors, destinations and the people he meets along the way. Today he is working on the next few fashion weeks and thereafter on a golf tournament and a world tour. For Big Game Air's Gomez and business partner Todd Rubin this type of business caps a collective career of 40 years in hospitality, and Meza at Jetex finds it an exhilarating experience, requiring him to be on the ball at all times.
The challenges of brokering to a large and well-attended event range from increased costs due to special event landing fees, restricted slots and heavy ground traffic. "You name it, we have seen it," says Gomez. At one of Big Game Air's bigger events there were mechanical issues and both aircraft were grounded. Staff had to work around the clock with partners both local and national in order to reposition aircraft. "We expect and plan for the unexpected," he adds.
It is not always possible to control or monitor the whole charter chain of command as a situation can change extremely quickly and there may be multiple channels of communication. "The only way to stay on top is to pre-plan," says Meza. Thus he can have a solution to hand for any potential problem, enabling him to respond quickly when schedules, or other elements of the trip, have to be changed.
Local airports are often extremely congested at these times so implement a traffic management system of slotted times for arrivals and departures that must be requested in advance. These times are based on availability and traffic patterns, not necessarily passenger preference. "The best slots are booked up rather quickly so the earlier you book, the better chance you have of getting the most suitable slot," says Florida-based Air Charter Advisors president Adam Steiger. It can also be the case in the US that, say, the Department of Homeland Security may establish airspace restrictions over major events that may result in flight times longer than anticipated.
And sleep through Wagner at the Met?
Without a doubt one of the busiest and most complex European dates was last year when the Monaco Grand Prix coincided with the Cannes Film Festival. The greatest challenge for Air Partner was slots and parking because of the volume of private jet traffic. Many of its clients prefer to fly in and out solely for the event and the company had to manage their expectations as the local airports would have been operating at full capacity.
Jayawardene has accompanied a number of his clients on tours by virtue of managing not just air travel but accommodation, security and ground arrangements. "They need someone on hand to make sure everything is seamless," he notes, mentioning that he had what he describes as the enviable task of chaperoning those 24 Miss World and Miss Universe contestants all around India on the Hampi trip.
Who wants to corner Cartier too?
Avinode MD, EMEAA, Annika Abraham notes that in the lead up to large national and international events there is always a natural spike in activity across all of Avinode's platforms as brokers prepare for the increase in requests and sales. Broker behaviour certainly changes for these events due to the increased number of end customers requiring flights, and one factor that amplifies competition among brokers is the popularity of certain aircraft types. In 2017 the Citation Excel/XLS, Citation CJ2 and Legacy 600/650 were most in-demand in Europe. By contrast the Gulfstream IV, Hawker 800 and Hawker/Beechjet 400 were the most requested aircraft in the US.
Two of the largest spikes in activity within Avinode last year were a result of the UK's Grand National and the Monaco Grand Prix, which both generated a 10-fold increase. And it's always busy in early summer in France, driven by the French Open and the Cannes Film Festival as well as the Grand Prix.
The size of spikes in broker traffic are determined by the area in which the event is based. An event in London, for example, will see a maximum of 10 times the usual activity as the area is already extremely busy; whereas a regional event in the US might see a much higher spike relative to the usual requests. The Kentucky Derby in Louisville on 6 May 2017 generated 50 times the usual number of requests for the region within Avinode. By contrast the more high-profile 2017 Super Bowl that took place in Houston, a city with a well-established business aviation sector, only saw 10 times more requests.
And I don't, 'cause all I want is you
"Major sporting events can always be relied upon to boost activity," adds Abraham. For the UEFA Euro 2016 football games the company saw a 100-fold increase at Marseille with 2,600 requests in two days. And not only will the Winter Olympics in South Korea and the FIFA World Cup in Russia be major drivers of traffic in 2018 but they will also bring an increase in requests for longer round trips. "For the World Cup, brokers will book an aircraft for an extended period so the customer can fly to each city to take in all the games they want to see before returning home," she says.
According to Jetex, polo tournaments and collective worldwide experiences, all-inclusive and all-encompassing experiential trips with multiple stops, are growing in popularity. Now it's not just jet charter but dining, tours and unique bespoke experiences that fall into the lap of the broker to organise. A dilution of skills, or a welcome addition to a professional portfolio? Happily there is room for both. What a swell party this is.
Contact details