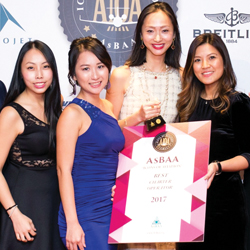 The VistaJet team receives its best operator award from AsBAA
VistaJet posts strong results
VistaJet has reported US year-on- year results for the third quarter of 2017 that show new programme hours increased by 146 per cent and flight hours sold to prog-ramme members grew by 210 per cent. Flight departures increased by 30 per cent. Nearly half of those customers who joined in the past 12 months have gone on to book additional hours. These results follow $150 million investment from Rhône Capital.
Founder and chairman Thomas Flohr says: "The numbers we see show two very important things about private aviation in the US. First, there continues to be a trend away from owning aircraft, either entirely or a fraction, given the associated costs and assets risk. Second, demand for high quality private aviation services continues to grow, proven by our ability to treble the number of US programme customers."
In the Middle East VistaJet is to extend operations to and from Saudi Arabia and explains that the rising importance of private jet travel in the region is charac-terised by the increase in companies launching business subsidiaries there.
The company was also named best operator at the AsBAA Icons of Aviations Awards. VistaJet president of Asia Leona Qi says: "It's an honour to be recognised as the best operator for the second consecutive year. Our Asia business has been increasing over 20 per cent year-on-year, making it one of our fasting growing markets."
Contact details