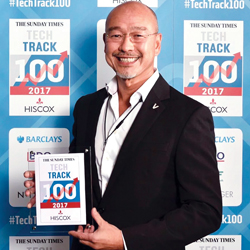 At 33rd place in the Sunday Times Tech Track 100, Clive Jackson says Victor has seen four-year growth of 946 per cent
Victor makes North America appointment
UK-headquartered Victor has appointed Jean De Looz senior vice president of North America. He takes responsibility for regional sales and operator relationships as well as leading broader strategy and management of Victor's US business. De Looz spent the past five years at Dassault Falcon Jet in its Eastern US and Canada aircraft sales division and has previous charter sales experience at Meridian Air Charter. He is also a qualified commercial pilot and instructor and has an MBA from the European Institute of Business Administration.
"Jean has aviation in his veins," says COO Guy Winterflood. "He's a proven business leader with rich experience in selling and managing high value private aviation services, and his passion for delivering world-class charter, his significant track record and his hunger to continually innovate and improve things are all qualities that I'm confident will help drive further growth and success for Victor in North America."
De Looz heads a team of 25 sourcing, flight management, marketing and customer service employees based at Victor's new US headquarters in Manhattan.
"Victor is a pivotal and pioneering player in the private aviation space," says De Looz. "Having just closed a $20 million Series B investment with BP as lead investor, the company is well placed to keep disrupting and advancing the market. I'm thrilled to be joining at such a key stage of Victor's unique journey."
A Tech Track Hat-Trick
Victor has achieved 33rd position in the latest Sunday Times Tech Track 100, its third consecutive appearance in the table, and is the highest-placed aviation business.
The company continues to see flyers switching from jet ownership to pay-as-you-go charter. Victor research shows that for the year-to- date, 62 per cent of all European jet movements have been chartered versus 37 per cent attributed to owned private aircraft.
Founder and CEO Clive Jackson explains: "Four-year growth of 946 per cent is set to propel our $39m of sales in 2016 to over $60m in 2017. By the end of 2018 we aim to become the biggest on-demand charter provider, by transaction value."
RocketRoute partnership
The company has entered into a partnership with RocketRoute that will allow both businesses to collaborate on delivering digital solutions for operators spanning integrated charter sales, bookings, flight ops management and trip support across a range of missions.
Contact details