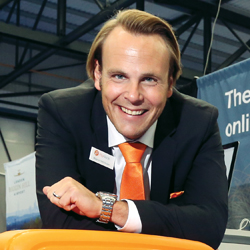 Magnus Henriksson estimates that more than 15 per cent of charter bookings in North America and 25 per cent in Europe involve cross-currency, cross-border bank payments
PayNode's WorldFirst partnership facilitates bank payments
PayNode is forging a partnership with international payment specialist WorldFirst to improve bank wire transfer payments for charter brokers and operators. A bank payment solution will become the third payment option offered by PayNode, alongside American Express and AvCard payment cards.
As well as mitigating foreign exchange risk for brokers and operators receiving payment (merchants), the solution will offer competitive exchange rates to payers, enable the high speed transfer of international and domestic payments into merchants' bank accounts and notify merchants that a payment is received so that charter flights can be operated without delay.
The handling of same-currency transactions will also be improved as there will be full transparency on all costs involved in each transaction to enable efficient decision-making on costings and quotes. It will bring automatic reconciliation to the payment process with instant notifications of when monies are processed and there will be automatic processing in order for merchants to set the payment for multiple outstanding invoices from one incoming payment, thereby speeding up the payment chain and creating savings for merchants in administrative time and costs.
PayNode MD Magnus Henriksson says: "Together with WorldFirst, PayNode is creating the first online payment platform for business aviation that will address what we know to be some key pain points for both brokers and operators: the need to work faster, to move large sums of money internationally at high speed and to mitigate foreign exchange risk. Brokers in particular will benefit from the speed and ease at which cross-border, cross-currency and domestic payments will be processed, significantly reducing the time and cumbersome procedures involved in making these high value payments.
"Giving brokers access to competitive foreign exchange rates, our new wire bank transfer service will automatically reconcile pay- ments, delivering a more efficient service on behalf of brokers.
"This will be supported by full transparency on all the costs involved in each transaction, enabling brokers to take charge of the payment process with more confidence," Henriksson says.
Contact details