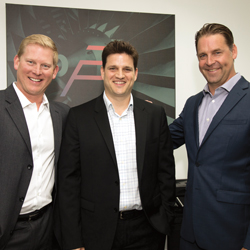 With PrivateFly's vice president of sales (USA) Geoff Villano (centre) are Bird Dog Jet COO Ryan Folkening (left) and founder and president Chris Early
PrivateFly takes over Bird Dog Jet
UK-headquartered private charter platform PrivateFly has taken over USA broker Bird Dog Jet. Joining PrivateFly will be founder and president Chris Early, COO Ryan Folkening and sales advisor Zach Rankin – a team with industry experience of on-demand charter, fractional and card programmes. They will be based at PrivateFly's USA head office at Fort Lauderdale International airport.
CEO and co-founder of PrivateFly Adam Twidell says: "We're delighted to be bringing across the experienced team from Bird Dog Jet, which has established some excellent client and corporate relationships. This business combination helps us strengthen our geographic reach in the US, and represents the next step in PrivateFly's continued growth strategy.
"We have been looking for opportunities to accelerate our US growth for some time, and continue to do so. This includes joining forces with companies that will help us grow faster than we could do in an organic way. We also remain profitable, which sets us apart from any other new business model in our sector." In 2017 PrivateFly saw annual sales growth of 51 per cent and continued profitability, largely driven by its rapid US growth. Over two thirds of sales were made outside the UK.
Early adds: "We have been committed to delivering the best combination of technology and service and this move will help us deliver even greater advantages for our clients."
Contact details