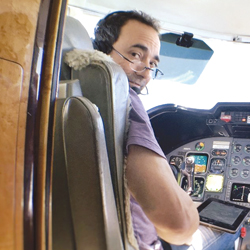 Jim Kastleman is a broker and captain on a fleet of Learjet 60s
Above and Beyond: Resolving Part 135 charter arrangements for a former Part 91 pilot
At NBAA in October, pilot, editor and owner of Texan private jet travel company The Company Plane Jim Kastleman talked about a recent piece of broker business that had proved to be quite a challenge.
A customer had just sold his own King Air and wanted to fly with friends to Monument Valley in Utah, a beautiful nature area and perfect for hiking. Kastleman found a Learjet 40 for him easily enough, but then he encountered problems.
The closest airport to Monument Valley is Kayenta in Navajo County, Arizona. It is about a 30-minute drive away but it has no services. None. At all. It took Kastleman several days to get through to the airport manager and the operator was becoming concerned. What about overnighting? What about security?
There turned out to be no security. The airport manager offered to lock the gate and tell him the combination, but would do this only after landing. The operator was becoming more concerned. It transpired that only the occasional EagleMed ambulance service aircraft would ever stay overnight. But nevertheless, there would be no weather reporting, no instrument approach, and again, no services. What to do?
He considered flying to the next closest airport which would be about a 90-minute drive to the resort. They could get fuel there, but it would be more expensive for the passengers; a $20,000 trip was turning into a $22,000 trip and the client was not keen.
"Now the client is a savvy guy," says Kastleman. "He's owned his own plane but he's not used to flying Part 135. That's what was interesting. I had to explain the difference between Part 91 regulations, where the pilot is directly responsible for operations, and the stricter safety require-ments of Part 135. He's used to landing anywhere his flight manual says he can land, so we had long conversations about the 60 per cent and 80 per cent minimum runway lengths. And if it were wet, or if there were a 50 per cent chance of rain, we could not go.
"Then there is the whole concept of why you just can't overnight the plane at Kayenta. Well, first of all there aren't too many hotels around there and the pilots were reluctant to stay in the budget Motel 6. Neither were there any rental cars for onward ground transportation.
"Finally we had to address the security factor, and in the end the operator came back and told us that the owner wouldn't let his aircraft overnight there. In the end I arranged for the pilot to drop the passengers off in Kayenta and overnight at Blanding Municipal airport in Utah, about a 35-minute flight away. This was for the higher price but the client preferred that over additional driving time."
On the day of the charter Kastleman woke up early in the morning to find it was beautifully clear so he got in touch with everyone to confirm the flight. In the end it all went smoothly, but at the cost of many hours of negotiation.
Contact details