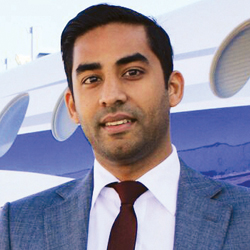 Rishi Maharaj brings Bitcoin to Monarch Air Group's payment process
Monarch Air Group accepts Bitcoin
In a move aimed towards increasing its customer service, accessibility and levels of customisation, Florida brokerage Monarch Air Group will now accept payment for air charter via Bitcoin.
Private jet charter is a fast-paced market that thrives on time-efficiency so being subject to the limitations of banking hours is not an option for today's global customers, according to executive account manager Rishi Maharaj. "In a world where the business aviation market is more of a necessity than a luxury, as an industry leader Monarch is among the first to evolve and accept the new currency. We continuously enhance and streamline our booking process with methods like digital contracts, live online quoting and no membership fee charter programmes," he says.
The company projects that during 2018 between three to five per cent of flights may be booked using Bitcoin. "It might be even more; a fact that wouldn't come as a surprise for us due to the steady increase in transactions registered on a yearly basis," concludes Maharaj.