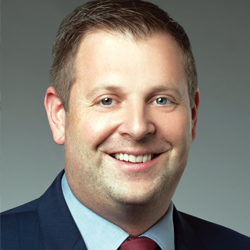 Thomas Koehli, CEO, Nomad Aviation
Company appointments
Delta Private Jets
Kentucky, USA-based Delta Private Jets has appointed Gary Hammes as president. He is responsible for financial and operational performance, growing the brand and transfor-ming its customer service platform. Hammes is a 30-year airline veteran who served most recently as COO at Virgin Australia and previously as senior VP and COO at World Airways and ASTAR Air Cargo Inc.
"I am pleased to join Delta Private Jets and work with a strong team of leaders to create an even more dynamic, innovative, and service-oriented culture to transform our position in the industry," he says.
Nomad Aviation
Thomas Koehli has become CEO of Swiss charter and manage-ment company Nomad Aviation while continuing to lead the charter sales and ground oper- ations department. He succeeds his father Heinz Koehli who will concentrate on company expansion and his strategic role as executive chairman.
Thomas Koehli joined Nomad Aviation in 2016 having spent 18 years with a Zurich International airport-based ground handling company. His father says: "As Thomas has already worked in the aviation industry in various management functions he will be a valuable and highly appreciated professional leading the operation of Nomad Aviation. His strength is organisational leadership and he is a dedicated and motivated person. I am delighted to welcome him in his new function as CEO, to further grow Nomad Aviation with his team."
Windsor Jet Management
Fort Lauderdale Executive airport-based Windsor Jet Management has made changes to its leadership team. Juan Hincapie is now general manager of the company, responsible for overseeing its day-to-day operations and departments. Head of accounting is Ena Arias, a certified public accountant with more than 15 years experience.
Owner and CEO Ignacio Martinez says: "We are thrilled to announce the recent leadership updates of Juan and Ena. Both individuals bring a tremendous amount of experience and expertise in their given areas, which will further assist forward momentum for the company and support the continued growth of the business."
Metrojet
Hong Kong business aircraft services provider Metrojet has appointed Gary Dolski as CEO. He assumes full management responsibility of the company, overseeing its long-term business development and strategic growth as well as day-to-day operations. Dolski has spent more than 35 years with Bristol Aerospace, Bombardier, MD Helicopters and Jet Aviation in North America, Europe and Asia. He joined Metrojet as MD of aircraft management and charter earlier this year.
"I very much look forward to this great opportunity," he says. "With the support of the [parent company] Kadoorie Group and Metrojet's dedicated team of professionals we will continue to enhance and grow our business in accordance with the highest levels of safety, integrity, customer service and financial performance."
Private Sky
Irish charter and management company Private Sky has appointed Dave Scully as managing director and accountable manager. Previously he was director of operations at Dublin-Weston Executive airport and has nearly two decades experience in the aviation industry. He founded Irish aviation consultancy AEM and is co-founder and president of the Irish Business Aviation Association.
Contact details