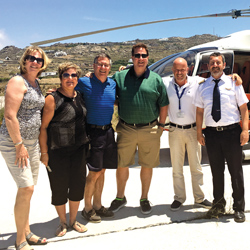 The Magna Aviation team with a Eurocopter EC135 ready for departure
Magna Aviation deploys helicopter for stranded client
Greek brokerage Magna Aviation has opened Travel Point Mykonos, an office at Mykonos airport, with sister company Magna Travel, an IATA travel agency operation.
"Mykonos is among the hot destinations for business aviation in the summer. During peak months you may have up to 20 business jets a day landing on the island, not to mention the helicopters, which almost double the movements," says managing partner Miltos Mouzakis. The airport office is the place for all Magna Aviation's helicopter and private jet customers to meet with handling agents or the pilot of the aircraft.
The airport has just one terminal that hosts all international departures and arrivals, private and scheduled and, since there is no flight information board, the com- pany also acts as a general infor- mation point and on occasion has even helped stranded passengers.
"We had a client who missed his British Airways (BA) flight to London for an urgent appointment," adds Mouzakis. "Although he wanted a private jet to fly from Mykonos to London, we convinced him we could save him thousands of euros. We got him a helicopter that took off within half an hour, as the pilot was on standby, and flew him to Athens where he boarded another scheduled BA flight to London at a fraction of the cost."
Most of the flights the office has arranged have resulted from the lack of business aviation slots at Mykonos in peak months. Invariably aircraft have to divert to the nearest airport, which is either Athens or Santorini. From there Magna Aviation provides passenger transfers to Mykonos.
Contact details