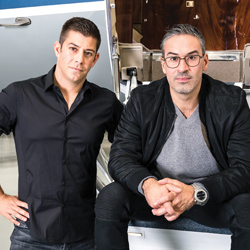 Arturo Gomez and Todd Rubin of Big Game Air have taken the hotel out of the trip
Big Game Air launches same-day game-day travel
Chicago-headquartered Big Game Air is offering sports enthusiasts private jet travel to major events with the ability to return home the same day. CEO and co-founder Arturo Gomez explains the idea behind the concept: "It came about when my wife was seven months pregnant with our first child. I wanted to attend a Big Ten football game taking place soon after she gave birth. My wife didn't want me leaving her alone with our baby overnight so I had to figure out a way to get to the game and return home the same day."
"I called my friend Todd [president and co-founder Todd Rubin], who I knew had a lot of aviation knowledge, and after some research and planning we booked a private jet and boarded the plane with a group of our buddies to see the game. We arrived home 12 hours later. Everyone agreed it was a great experience, and we knew we had an exciting and unique opportunity on our hands. This set Big Game Air in motion."
Big Game Air provides fans with individual seats on business jets to in-demand collegiate and professional sporting events across the US. Currently, flights operate from Chicago, Columbus, Detroit and New York to major sport-centric cities in the Midwest such as Green Bay, Wisconsin; Iowa City; Lincoln, Nebraska and Ann Arbor, Michigan. It plans to expand to additional regional markets in 2018.
The average cost of a round-trip ranges from $1,200 to $2,200 and each ticket includes round-trip private jet travel and ground transportation to and from the sporting event. Clients can also purchase game tickets via Big Game Air's website.
"We're offering passengers a game-changing experience from purchase to take-off and return, with the ease of selecting single private jet seats on our digital platform," says Rubin. "Through our simple online process, Big Game Air eliminates the time-consuming planning that accompanies traditional sports travel." In addition the company offers ticket holders value-added features such as speciality packages from food and beverage partners, jet hangar parties and professional athlete- and celebrity-hosted flights.
Contact details