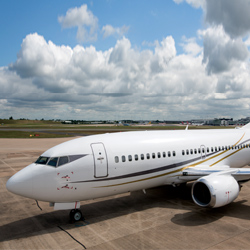 VIP airliner charter is on the rise thanks to demand from corporate and sports clients, according to Air Partner's Mark Briffa
Air Partner is a company at the top of its game
The Air Partner group's European offices have conducted 79 football-related flights, flying over 5,000 passengers more than 90,000 miles to 21 different countries to date in 2017. The private jets team has seen strong demand for its services, flying prominent players, managers and VIPs to various destinations across the globe.
Over the last three years the group has seen an increase in sports activity, with the last six months alone up significantly compared to the same period last year. Trading director Clive Chalmers says: "It has been a great year so far for Air Partner on the sports front and I would like to thank my colleagues for all their hard work. I look forward to carrying this success on through the season as we gear up for another busy year when the 2018 FIFA World Cup lands in Russia."
A comment on the rise of the VIP airliner
According to CEO Mark Briffa, the sharp spike in VIP airliner charter is being driven not by the global expansion of the UHNWI demographic but by demand from corporate incentive, sports teams and their VIP supporters. The company has seen a 38 per cent increase in these charters in the three years to 2017 versus the three years prior to that and this demand has been met by increasing numbers of retro-fitted airliners entering the market.
These aircraft are often sourced from well-established scheduled airlines looking to reduce inventory and release cash in a difficult trading environment. As a result, they are available to the charter operator at a significant discount, and in some cases the original owner even provides the VIP refit as part of the deal.
Airliners are built to work hard for a living, they are cost-effective to operate and are relatively low maintenance by design. They can boast 'private jet' levels of comfort with a baggage capacity and a cabin size that the largest private jets just can't match. And yet, due to the economies involved, this new breed of VIP airliner can reach the market at an hourly rate comparable to private jets with less than half the number of seats.
At the same time the trading pressures that have forced scheduled carriers to rationalise their fleets have also pressed them to consider new sources of revenue for the remaining aircraft. Now they are welcoming the opportunity to monetise otherwise redundant assets with bespoke charters by venturing into the charter market.
"This business looks set to grow much further as more and more potential customers and operators discover new possibilities with charter," says Briffa.
Air Partner's pre-close trading statement
Air Partner has released a trading statement for the six months ended 31 July 2017, ahead of entering its close period on 29 August 2017. The group has made a strong start to the year with underlying pre-tax profit for the first half of the financial year expected to be not less than £4m, which compares to £3m reported in the same period last year.
Its broking division, comprising aircraft charter and remarketing, has performed well across all product lines and its private jets team has seen continued growth in JetCard renewals and utilisation. The UK remains strong while activity in the US is benefitting from past staff recruitment. Mainland Europe, however, remains a challenge.
Contact details