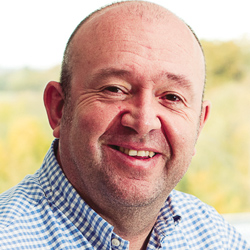 Steve Huddlestone enjoys the variety of operations in this international company
Music, movies and sport are key
"One of the highlights of working at Chapman Freeborn is the variety of the work we do each day," says VIP and executive charters manager Steve Huddlestone. Since the 1980s the company has earned a reputation for its skill in managing bespoke charters for high profile music tours, movie promotions and other entertainment industry clients. A large part of its focus now is on using this expertise to expand its share of the executive charter market, as well as other niche sectors such as sport.
"I find that no two days at work are the same," Huddlestone says. "The expectation on charter brokers is to deliver instant solutions, so by nature you need to be flexible and quick-thinking on a daily basis."
In terms of winning business he feels that the last few years have definitely seen more of a squeeze in the market; but notes that when an enquiry comes in a good broker will always be working out how to operate this charter better and more cost- efficiently than a competitor would, and how to go the extra mile for the client.
"It is important to think outside the box and to have a can-do attitude," he adds. Some days a client's special request may be something relatively straight-forward like securing tarmac access, but at other times a broker might find themself phoning around trying to track down a particular vintage wine for a client to enjoy during the flight.
After selecting the most suitable aircraft to fit not only the customer's requirements but also the route demands and considerations, Huddlestone and his team typically work alongside the in-house operations team to secure all necessary permits in time and thoroughly check that all documentation and arrange-ments are in place. Any missed deadline or overlooked detail can result in a headache further down the line.
"One of the unique aspects of Chapman Freeborn is just how international its business is," he says. "Every day involves working with colleagues from around the world who are passionate about aviation, yet there's still a family-run feel to the business."
A lot of the company's clients are travelling further afield, particularly in the executive market, so having international expertise around-the-clock is very important. If a UK client wants a multi-leg tour of their manufac-turing facilities in China, Chapman Freeborn is able to liaise with colleagues on the ground who speak the local language, understand the culture and can coordinate a complex charter project. It's all in a day's work.
Contact details