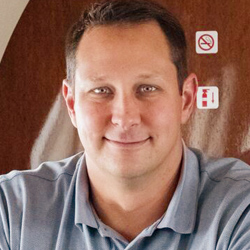 Along with many ACANA members, Joel Thomas was able to provide timely uplifts ahead of the storm
Members step up for operation Hurricane Irma
This issue we are without the usual ACANA association report. With most scheduled flights cancelled during the approach of Hurricane Irma, instead we hear from some of the association's members who have been involved in evacuation activities in Florida.
Vice president, sales, at Ultimate Jet Charters Jeff Moneypenny tells how the company has been running multiple legs all week long. "We gave every piece of availability we could," he says. "We worked with multiple brokers and operators during this process and it went as smoothly as it could in the circumstances. Our thoughts and prayers are with everyone that may have been affected by the storm."
At ACS Americas the Miami, New York and Toronto offices were all busy booking rescue charters. Its first were on Tuesday 5 September; two private jets carrying 20 passengers from Cyril E King airport on St Thomas and 25 people on another aircraft out of San Juan in Puerto Rico.
"Since then we have had a lot of bookings and, starting Thursday, we had jets flying from Tampa, Fort Lauderdale, Opa Locka, West Palm Beach, Venice and Vero Beach, all escaping to various safer havens," says president Richard Thompson. "One of our clients even flew with their two pet dogs on board."
Stratos Jet Charters president and CEO Joel Thomas reports how his company pulled aircraft in from as far away as Arizona, Kansas and Kentucky. Over half the outbound flights went to New York, a third to Nashville and the rest mainly to Chicago and Minneapolis.
Stratos Jets' first evacuations were from St Thomas, Puerto Rico and Antigua. By 5 September the company was also airlifting from the Florida airports. Catering kitchens were closed and ground transfer providers were hard to come by. Naples Municipal was the first airport to run out of fuel and others followed, so aircraft were picking up fuel in north and central Florida prior to passenger pick-up.
On 8 September aircraft were delayed from positioning to Florida for late afternoon flights, and by this time Stratos Jets had been working 20-hour days to help families and the elderly to escape the storm.
"We had clients who typically fly mid to super-midsize flying on CJs just to get away," he adds. "And we saw the generosity of customers who offered free seats to those who wanted to join them."
By Saturday Stratos Jets started making plans to bring emergency supplies to the island of St Thomas, as well as to return clients it had evacuated to their homes in Florida. On Sunday, 10 September, the last evacuations were conducted from Orlando Executive airport. Both FBOs were closed and the tower shut at 18:00 hours. As a consequence airspace was downgraded to Class E with self announce procedures.
Contact details