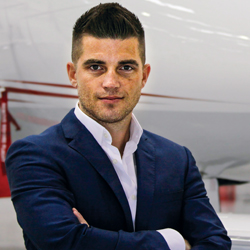 Sam Heather will build on Interflight's successes as commercial director
Company appointments
Interflight
Sam Heather has been appointed commercial director of London Biggin Hill-based Interflight.
Heather will be responsible for commercial growth across all three company divisions: private jet charter, aircraft maintenance and aircraft management.
Accountable manager Trevor Jones says: "Sam brings a wealth of industry knowledge and experience, and will be instru-mental to Interflight's journey in becoming a world class leader in the field of private aviation."
Jet Access Aviation
James Jones joins as vice president of sales after 14 years in the apparel business. He says: "Hard work and attention to details leads to success and repeat business in the aviation world. I look forward to leading the sales team as we continue to grow and take on new aircraft while providing world class service to our clients."
Rebecca Boren takes on a role in owner and client services. After a decade spent working in sales and marketing for private aviation, her attention to detail and relationships with high net worth clients will serve Jet Access well.
With the rapid growth of Jet Access Aviation's fleet, Diijon Lyn Shue, Shawn Wilkinson, Robert Levino and Paige Verville have joined the operational control centre. Shue started his career in line service and worked his way up to flight operations supervisor. Wilkinson, a Part 121 licensed dispatcher, has over 20 years of both on-demand passenger and cargo charter experience. He says: "It is truly an honour to be a part of the team. The level of professionalism, camaraderie and customer service goes above and beyond the standard."
Levino has extensive exper- ience with international travel, particularly to the Caribbean, Central America and Europe, and has worked with many aircraft types from small twin engine piston aircraft to commercial airliners.
Verville started at Gulfstream Aerospace and has worked with several charter operators in their dispatch departments. She has a keen understanding of Part 135 and Part 91 regulations.
Executive Jet Management
Senior vice president of operations at EJM Dennis Fox has been appointed chairman of the Air Charter Safety Foundation (ACSF).
Fox has been with EJM for 16 years and a member of the ACSF board of governors since 2013. He recently became an NATA board member. Before joining EJM he served in the US Army for 15 years where he flew attack and aeroscout helicopters.
Delta Private Jets
Gary Hammes is named president of the Ohio-based operator, responsible for both financial and operational performance, growing the company brand and its travel solution, as well as transforming its customer service platform.
Hammes, a 30-year airline veteran, most recently served as COO at Virgin Australia and prior to that was senior vice president and COO at World Airways and ASTAR Air Cargo. He brings to the position of president a strong reputation for improving operational efficiency, surpassing budget expectations, and improved employee engagement and customer service metrics.
Cutter Aviation
Matthew Sorace has been promoted to flight department manager at Phoenix Sky Harbor airport. Sorace is now responsible for the day-to-day operations of aircraft charter and management and will assist in growing the number of clients.
Sorace joined Cutter Aviation as charter coordinator for Cutter Flight Management in 2010. He has a degree in aviation sciences, is a commercial pilot with multi-engine and instrument rating and has spent time as a flight instructor. In his free time he volunteers with local pet shelters and animal rescue groups.
Pentastar Aviation
President and CEO Greg Schmidt has been elected chairman of the National Air Transportation Association (NATA) board of directors. Schmidt has served on the NATA board since 2013, having previously served as treasurer and vice chairman.
He says: "I'm honoured by this appointment, and look forward to further advocating on behalf of NATA members and the entire business aviation community. Business aviation is a strong lifeline not only to our clients, but to the communities that are reached by business aviation. I'm proud to help guide the nation's leading authority on aviation business during a time of exciting technological advancements and challenges facing the nation's aviation infrastructure."
Woodgate Aviation
The Belfast International airport-based operator and FBO has appointed Keith McKay as its business development manager. McKay has more than 19 years of experience in the airline and private aviation sector having previously worked with bmi British Midland and Servisair, gaining experience in customer services, flight dispatch and service delivery management. He also worked in private jet charter brokerage where his responsibilities included business aviation marketing and promotion.
Contact details