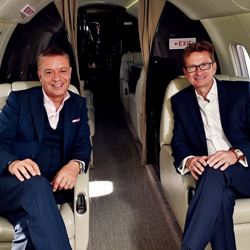 George Galanopoulos and Patrick Margetson-Rushmore saw early summer bookings rise for Luxaviation UK
Luxaviation UK enjoys positive start to summer 2017
Luxaviation UK is celebrating a positive start to the summer period with a 15 per cent increase in bookings in June versus the same period last year. The company says the rise in early summer bookings, a trend being reported across the industry, is being driven by an increase in travel to the Mediterranean's holiday hotspots, an increase in demand for music festivals and the need to avoid the heightened delays and cancel-lations being experienced across commercial airlines.
CEO Patrick Margetson-Rushmore says: "Our positive booking figures for June are a good indication that the industry is stable and that customers in the UK continue to value private aviation as a worthwhile investment. We all know that figures are not as high as they were pre-recession, but we are confident that the summer months will continue to bring solid growth for us.
"This year, business generated by the music festivals is up around 30 per cent on last year. Getting artists, their management and support teams from A to B at the height of the festival season in the UK and the rest of Europe is a key part of our summer season business, accounting for around 20 per cent."
Its top ten private jet destin-ations for UK departures between May and September is headed by Nice in France, and Ibiza and Palma de Mallorca in Spain. There is a significant increase in popularity for destinations such as Mykonos in Greece, Split in Croatia and Naples in Italy.
MD George Galanopoulos adds: "We definitely see changing trends in where our clients want to go. Whether this is for economic reasons or simply driven by fashion or taste, we have seen a significant rise in requests for Mykonos this year. It's a glamourous island where our customers go to party and enjoy the beautiful beaches. Split in Croatia is a popular destination for those looking to access their private yachts and boats, often moored around the islands of the Adriatic. And Naples is the perfect destination for those looking to explore the west coast of Italy."
Contact details