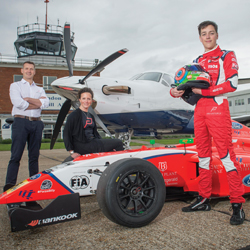 Adam Twidell and Carol Cork of PrivateFly are sponsoring aspiring F4 driver Olli Caldwell
PrivateFly sponsors rising star of Formula 4 motorsport
UK-headquartered private charter platform PrivateFly is sponsoring 'one to watch' racing driver Olli Caldwell in his debut season for the Formula 4 (F4) British Championship 2017. His first race took place on his 15th birthday when he became the youngest driver ever to compete in British F4. He also became the youngest F4 points scorer in history after taking 10th place.
The teenager is the youngest member of the multi-formula Arden International racing team. A globally-recognised step between karting and F3, the F4 British Championship has established itself as the place for young drivers from around the globe to start their campaign towards a F1 career.
PrivateFly marked the start of the sponsorship by pairing Caldwell and his single seater Mygale-Ford Formula 4 car with a Pilatus PC-12 for a photo shoot at London Biggin Hill airport.
CEO Adam Twidell says: "At PrivateFly we believe strongly in supporting young talent so we are thrilled to be sponsoring Olli in his first F4 British Championship season, and proud that he will be sporting our new PrivateFly brandmark on his car and race suit. A rising star in British motor racing, Olli is someone who embodies performance, speed, determination and agility. He's widely-perceived to have great promise for a future motorsport career, ultimately aiming to become a F1 driver.
"We launched our relationship by introducing Olli and his car to the Pilatus PC-12, currently one to watch at the entry-level end of the private charter market. With regulation changes earlier this year opening up its commercial potential in Europe, the PC-12 is on a similar trajectory to Olli. It was fantastic to see these two rising stars of the track and skies, side-by-side."
Contact details