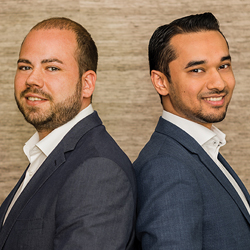 Charterscanner co-founders Vladislav Zenov and Wagas Ali
Charterscanner starts scheduling flight services
The owners of Dubai-based B2C private jet booking system Charterscanner have launched JetClass, a booking platform for individual seats on business aircraft serving popular European destinations at business class prices. JetClass is a non-subscription travel service headquartered in Vienna, Austria. The rationale behind its launch is to combat the decreasing quality of business class flights and the limited supply of short-haul flights around Europe, and to mitigate the excessive expense of charter prices for single passengers and upfront fees for subscription services.
JetClass assumes likely European destinations based on data analysis to predict demand and facilitate scheduling, and the company guarantees no airfare or schedule changes. In other words it chooses a popular destination and reserves a partner airline's private aircraft, then sells the seats at business class rates.
The first available flights will connect London - Nice, Zurich - Brussels, London - Brussels, and Olbia - Nice, with prices starting at around $740. All offered seats are guaranteed; even if just one seat is booked, the flight will operate.
Charterscanner co-founder Vladislav Zenov says: "JetClass is not designed to be the cheapest way to travel, but it is instead intended to provide a vastly superior bus- iness class experience within a similar price range. The key to the service is the company's use of technology: it will enable flights to be scheduled only when and where there is both demand and limited supply; the conditions that usually drive prices up. Through the optimisation of each jet's scheduling and flight path it will be possible to bring prices down dram- atically. For example, a booked jet will perform not only two-way journeys but also multi-leg journeys between different cities in order to reduce the overall price."
Zenov's business partner and co-founder Wagas Ali adds: "Anyone travelling business class can see that the service is getting poorer. We are launching JetClass not just as an alternative but as a completely new approach to flying business."
Contact details