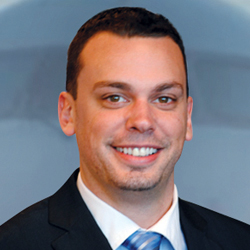 Jordan Hinsch joins ACS Florida from its New York office
ACS makes US appointments
Air Charter Service has promoted Joel Fenn to business development director for its five North American offices. Fenn brings considerable experience to the North American passenger market, a key area of growth for the company, and will focus on gaining more large corporate accounts in the region.
Fenn started his ACS career almost 12 years ago in the London headquarters where he worked his way up to the position of director, before taking on the same role in the Hong Kong operation and then moving to Miami in 2015 when ACS opened its Florida office.
Group CEO Justin Bowman says: "Within this new role, Joel will help to promote our Empyrean jet card products with initial focus on the southern US. Joel has already laid the successful foundations of our Miami office and will continue to oversee its day-to-day operation as office president."
Jordan Hinsch is now director of private jets in the company's Florida office. He joined the New York office seven years ago and his leadership skills have made him one of the most respected and successful private jet specialists in the company.
Fenn says: "Florida and the southern States are key markets and we are looking to invest further in the region. Charter numbers in the Miami office grew 65 per cent in 2016 and we are on course to completing our aim of doubling in size this year. Our worldwide policy of training and developing young aviation professionals, creating more jobs in the region and then placing them alongside our more experienced staff has paid dividends in all of our other 19 offices."
First quarter results
ACS has reported a 24 per cent increase in year-on-year revenue for February to April 2017. Bowman says: "Our volume of bookings increased by a very healthy 11 per cent compared to 2016, and flight numbers for our largest division, private jets, are up 18 per cent." Over the same period its Far East offices have seen an increase of 72 per cent, and the CIS offices in Moscow, St Petersburg and Almaty are putting recent economic troubles behind them with a 53 per cent increase in charter volume.
Contact details