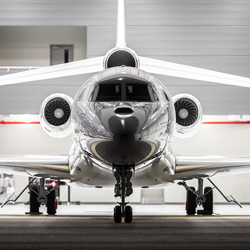 The Falcon 8X provides an optimum mix of range, operating economy and flying flexibility
New kid on the block: Dassault Falcon 8X
How does Dassault Aviation's Falcon 8X flagship differ from the 7X from which it is derived? Firstly, it can fly 500 nm farther; a range of 6,450 nm non-stop enables it to connect Beijing to New York or Hong Kong to London in a single hop.
Secondly, its cabin is 3.6 ft longer and offers many configurations including an on-board shower and three galley size options. And finally, thanks to further innovations in soundproofing and digital flight controls, a ride aboard the 8X is even quieter and smoother.
Not only is the 8X able to combine short and long hops, but its handling and short-field performance allow it to land virtually anywhere; it has even received approval to operate at London City airport. A Ka-band high speed broadband option delivers high speed in-flight connectivity.
The 8X entered service in October 2016 with Greek operator Amjet Executive. ExecuJet has a G-registered model based at London Luton airport and another is with Lions Air Group at Zurich airport in Switzerland. It is now also with operators in the US, the Middle East and India and the first China-based model will be delivered soon.
Contact details