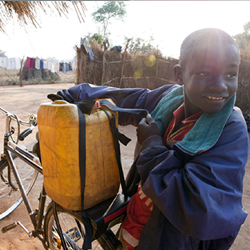 LunaJets believes mobility is the engine for social and economic development
LunaJets supports World Bicycle Relief association
As part of its corporate social responsibility programme Geneva-headquartered LunaJets is supporting the World Bicycle Relief association, which empowers people through the gift of bicycles. On behalf of all its clients, LunaJets donates a percentage of its profits to the charity.
In developing countries, long distances often prevent poor communities from receiving education, healthcare and economic opportunity, since walking is often the only mean of transport. The average daily walking distance for Kenyan students is around six km, but it can reach up to 20 km for the most isolated ones. By providing bicycles, more children can have access to school; farmers and entrepreneurs can carry more goods and access markets that are further away; and the injured or ill can access better healthcare.
LunaJets says it believes that, while private aviation is a privileged mean of transport, bikes should not be one, and access to healthcare or education even less.
Contact details