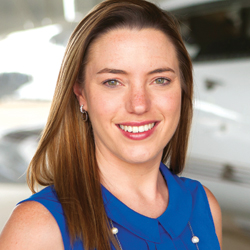 Kerry Searle is promoted to client services director for Comair Flight Services
Company appointments
Comair Flight Services
Kerry Searle has been appointed client services director of the Johannesburg, South Africa-based company. She joined CFS in 2011, and was previously a Grade 2 flight instructor and charter pilot.
Acropolis Aviation
Farnborough, UK-based Acropolis Aviation has appointed Tina Ross as charter sales executive. She has previously worked with Hunt and Palmer, and says: "Having a broking background is very useful as there is a lot of crossover of knowledge."
Cutter Aviation
The Arizona operator has appointed Sylvia Graebe as charter sales and aircraft acquisitions manager for Cutter's charter and flight management department.
Elit'Avia
Recently-appointed sales director for the UK, Europe and Africa, Wynton Fauré is responsible for non-commercial operations.
ExcelAire
Chris Curtin has joined New York-based aircraft management and charter company ExcelAire as senior director of charter operations.
Luxaviation UK
Alex Miles has been promoted to commercial manager having worked in Luxaviation UK's commercial team for seven years. He replaces Chris Watson who now occupies the role of head of group broker desks at Luxaviation Group.
Metrojet
Hong Kong aircraft services provider Metrojet has appointed Gary Dolski as managing director of aircraft management and charter, which covers flight operations, aircraft management and charter sales, client services and CAMO across Hong Kong, Singapore and China.
The company has also appointed Alden Zhang as designate general manager. He will be based in Shanghai and will develop Metrojet's China AOC project.
The two appointments will mitigate the move of CEO Björn Näf back to Europe later this year.
Contact details