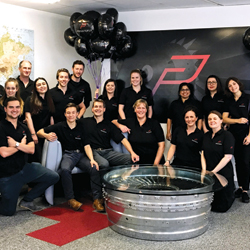 Inclusion in the FT1000 is a welcome validation of the growth achieved after 10 years in business for Adam Twidell and the PrivateFly team.
PrivateFly reaches higher with new brand identity
PrivateFly, a UK-headquartered private charter platform, has unveiled its new brandmark and web site, all designed to convey what it says is its unique offering in its sector: leading technology combined with a passionate, expert team. CEO Adam Twidell comments: "PrivateFly has evolved continuously but this process of developing our new brand identity has been a major project over many months. We're very proud of our new look but it's much more than just a facelift. This has been a deep evaluation of our core values, listening and learning about what our customers, aircraft operators and partners need from us."
Confidence returns to market
PrivateFly's latest data reveals its private jet customers are spending more per flight in 2017 than they were 12 months ago. Average spend per flight was up in every aircraft category against the same period in 2016, and by 26 per cent overall. The average small jet customer spent GBP 9,090 and the average long range jet customer GBP 62,910.
Customers are flying faster at short notice, with 63 per cent booking to fly in under a week, versus 57 per cent in 2016. Almost a third flew within 24 hours. Its three most popular flight routes in Q1 were London to Nice; Los Angeles to Las Vegas; and London to Paris. Marketing director and co-founder Carol Cork comments: "After several flat years, 2017 has brought an encouraging five per cent increase in flight movements so far to the whole business aviation industry, in both Europe and the US. Travellers are beginning to choose private aviation with confidence again, and others are flying for the first time."
FT1000 league table appearance
The Financial Times has published its FT1000 table which analyses Europe's fastest-growing businesses and PrivateFly is positioned 265th, based on its revenue growth of 467 per cent between 2012 and 2015. The league table will be produced annually and ranks independent companies in 24 European countries across all industries.
Pratt & Whitney-powered aircraft collaboration
EBACE saw the launch of a month-long promotion with Pratt & Whitney Canada whereby PrivateFly will offer a discount for charter bookings on a business jet with a P&WC turbofan engine, anywhere in the world.
Twidell comments: "This first- of-its-kind industry collaboration is aimed at educating and engaging today's business aviation customer about the engines that power the aircraft they fly on. It will include a programme of activities to highlight the benefits of the PW300, PW500, PW600 and JT15D turbofan engines to PrivateFly's global audience."
Contact details