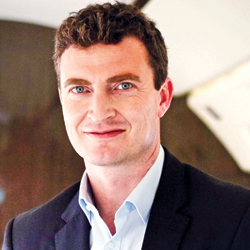 Jonny Nicol has increased Stratajet's US fleet offering.
Stratajet expands its US coverage
Booking platform Stratajet has added Wisconsin-based SC Aviation to its network of aircraft operators, and the company's fleet of Falcons, Hawkers and Learjets will join the 1,250 aircraft already on Stratajet's system.
Stratajet has seen strong demand for charter services in major private jet territories such as New York, Florida and California, but this fleet addition will significantly increase its exposure in Wisconsin, Minnesota and Illinois. With customers able to charter aircraft directly through the booking platform, the deal provides SC Aviation with improved margins in the operation of its flights, which translates into lower costs for the passenger. Stratajet founder and CEO Jonny Nicol comments: "We have been incredibly impressed by SG Aviation's level of service, meticulous aircraft management and immaculate safety record. The company strives to provide hassle-free travel, which resonates perfectly with our own vision to make private jet travel more accessible to a wider audience."
A surge in millennial and female flyers
Research into recent trends among its customers shows that ages are dropping in comparison to the industry average of 44 years. Stratajet claims the introduction of technology to private jets and instant accessibility of aircraft via smartphones is opening up the industry to a younger audience; its largest age bracket is the 25-34-year-old segment, where ease of access and lower costs are attracting millennials to private jet travel.
It also reveals its customers are increasingly searching for jets on the go, with the use of smartphones outnumbering desktops and tablets. And the number of women using the search feature has doubled since 2016.
Stratajet has been included in the Leap 100 2017, a list of fast-growth UK companies compiled by City AM, a London business and finance newspaper, with London law firm Mischon de Reya. Companies need to have reached, or be close to reaching, £10 million revenue over the preceding five years.
Contact details