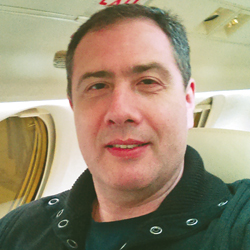 Leonid Nikulin hopes to generate European interest in the Russian platform
Online Service launches free platform in Russia
Moscow, Russia-based aviation software development company Online Service has launched VIPcharter.online, a free-to-use platform for brokers and oper- ators around the world. Information displayed includes the current location of all aircraft, calculation of flight time para- meters and quotes for passenger, medical and cargo aircraft and helicopter flights.
User contacts are publicly available and all members can deal direct with each other. Operators can list their own fleet details and post empty legs as well as having access to a section where brokers submit their requests.
Founder Leonid Nikulin hopes that VIPcharter.online will help reduce business costs, simplify fleet management and facilitate charter booking. "There is interest from Russian brokers and operators but since this service is a global marketplace we hope that European air operators and charter brokers will be interested in using the service too," he says.
Contact details