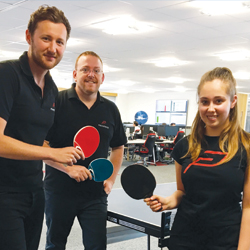 Can you ACE PrivateFly? Alex, Andy and Natasha are warming up to take on challengers at ACE17.
Don't miss the great ACE17 PrivateFly Ping Pong challenge
UK-headquartered PrivateFly will be challenging visitors to ACE17, which takes place at London Biggin Hill Airport on 12 September, to beat its team – and each other – at table tennis.
The online booking platform will have its own ping pong hotshots at the ready. So in between all that networking and talking business, why not head to its stand for some fun and a bit of friendly competition? Matches will take place throughout the day, with winning contenders pitched against each other in a final battle to be crowned ACE Champion.
Contact details