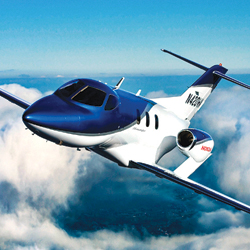 The HondaJet.
New kid on the block: HondaJet
At EBACE many of you expressed an interest in learning about new aircraft types. We discussed the unique selling points of these models with the manufacturers in order to present a series of snapshots which highlight those features brokers may want to promote. In the first we take a look at the HondaJet. The HondaJet is a fast, high-flying, quiet and fuel-efficient jet according to its maker. Its Over-The-Wing engine mount design has ramp appeal, but also reduces cabin sound and minimises ground-detected noise. The design also allows for a spacious cabin with plenty of baggage capacity and a fully serviceable private aft lavatory.
Honda claims the HondaJet is a workspace, thinking space, quiet space and a relaxing space, with adjustable executive seating and a host of other modern amenities.
To date deliveries have been made to the European Aero Training Institute Strasbourg flight academy in France, with commercial services under AOC planned this summer, and to Privateways in Geestland, Germany, which began a charter service in April. In the US, Arizona-based Cutter Aviation has two HondaJets for charter.
Contact details