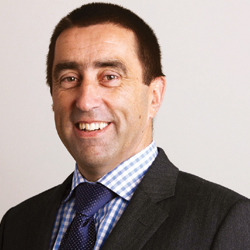 Mark Briffa and Air Partner are beginning the 2017-18 financial year with a degree of optimism following 2016's published results.
Air Partner arranges St Helena charter flight
Global aviation services group Air Partner recently chartered a return flight from Cape Town to St Helena after the cancellation of two Royal Mail Ship voyages left a number of passengers stranded.
St Helena airport is a notoriously difficult place to land, primarily due to wind shear issues which mean that the island has no scheduled air service and only certain types of aircraft can fly there. Air Partner entered into an agreement with SA Airlink to carry out the flight using a BAe 146 Avro RJ85 aircraft.
Air Partner's team obtained the appropriate permits and liaised with St Helena airport to ensure the correct ground equipment was supplied and that there was sufficient fuel. The team even made sure there was enough ice for the passengers' drinks.
There were 50 passengers on each leg of the journey. The out- bound flight flew via Namibe in Angola for re-fuelling, while the inbound travelled through Windhoek in Namibia. Despite the tricky weather around the South Atlantic island, both flights operated within schedule.
Superyacht partnership
The company has also entered into a partnership with global superyacht services company Camper & Nicholsons International. The agreement permits them to leverage each other's client bases in order to offer a full suite of integrated private jet and superyacht services. CEO Mark Briffa says: "We are delighted to be partnering with a company that shares our values as well as our passion for luxury travel. This agreement is further progress against our clearly defined strategy to optimise, enhance and extend our client offer."
Year end results
Air Partner has reported results for the year ended 31 January 2017. Within the private jets division its JetCard had another record year with gross profit increasing by 9.3 per cent to $13.2m, utilisation up 41 per cent on 2016 and card numbers increasing by 13 to 222. During that time the five most popular destinations outside of the UK for JetCard holders were Málaga, Geneva, Madrid, Chambéry and Dublin.
Briffa says: "We have delivered an outstanding service for our customers, and in doing so produced strong financial results, with profits and dividends in line with expectations. These results are beginning to reflect the last two years' hard work and commitment by colleagues across the group to position Air Partner for the years ahead. With a clear long-term strategy to transform our business mix, we intend to improve the quality and visibility of our earnings and consequently the returns we deliver to the owners of our business."
Contact details