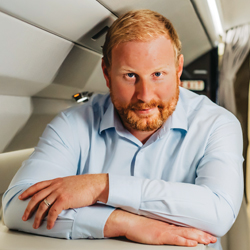 Chartright's David Shaver says technology improvements may reduce inefficiency of empty legs
Empty legs – recipe for revenue or disaster?
Not so long ago it was the case that around half of private jets in flight carried no passengers, and the industry has been trying to find a way to best address this potential opportunity. Environmental reasons aside, cost effectiveness and increased customer base are important drivers behind growing the empty leg market.
So, how has the empty leg phenomenon come about?
Perhaps most importantly, the past decade has seen the arrival of the very large fleet operators. According to Debbie Gardner, managing partner with PDM Consulting Inc in the US, consolidation has meant huge growth in fleet sizes, and large operators realised they could create a floating base, putting their aircraft anywhere they wanted to without the need to return them home. Thus they could offer one-way flights, which were cheaper than the price of the double round trips for which charter passengers had been paying when they stayed over for more than a day or two. Known also as point-to-point pricing, one-way prices are reduced because they don't include the return element.
The point-to-point pricing method allows the customer and the air carrier to share in the risk associated with flying one-way charter flights. The customer pays a higher hourly rate in exchange for the elimination of the responsibility of repositioning the aircraft back to base. This enables the operator to position their aircraft to a major market or to the next point of departure at no cost to them. When the air carrier accepts the risk of quoting and fulfilling a trip with limited repositioning, the customer must provide assurance in the form of a guarantee on non-cancellation. As scheduling technology improves, air carriers will accept less risk for point-to-point flying. This could further drive down the cost of such charter and expand the potential client pool to those where business aviation is currently just out of reach.
How do operators not able to offer point-to-point pricing make use of essential positioning of flights?
It is perhaps on the back of organisations such as NetJets, that were early providers of one-way flights, that empty legs came to the attention of the wider industry. Jason Johnson, president and CEO of Florida-based Exclusive, says: "These 'big boys' were charging less than the competition, customers were booking one-way flights, and the 135s caught on and realised that there may be a market for their empty returns." And systems like Avinode and CharterPad grew out of the need for a forum where availability could be advertised.
Is it just a marketing ploy?
According to Avinode, empty legs currently account for approximately 35 per cent of its private flights and the US and Europe are the two core markets. These days, because of improved technology and communication, the air charter industry in the US has become more efficient at minimising unoccupied flying.
Osman Erazo, founder, chairman and CEO of Erazo Jets International in Edmonton, Canada, says: "Being in North America, we're lucky that there are plenty of empty legs available for popular routes. Here, we find that empty legs from major western centres such as Vancouver, Calgary or Edmonton going to Toronto or Vegas are more likely to be filled. In the US, routes such as the NYC area to LA area, NYC to the Miami area and vice versa are usually the easiest to fill."
Around the world opinion varies, due in part to the differing maturity of the regional markets and the levels of jet availability or demand. Availability is good between the Middle East and Europe, but in Scandinavia and Australia, for example, there is little opportunity or interest at the moment and Asia is too big a continent to look for matching destinations.
Ian Button, MD of Independent Aviation in Australia, says: "I think it is a very different market 'down under' than it appears to be in the northern hemisphere. We receive daily emails of empty leg offers from Asia, the Middle East, the USA and Europe … I always wondered if they ever actually sell any of them."
He continues: "A couple of brokers attempted to launch an empty leg market here a few years ago, on a subscription basis. It annoyed many in the industry as they were advertising rates that were ridiculously low, and some insisted that any money garnered from the empty leg should be returned to the original client in the form of a discount. It died a natural death as there just weren't enough trips to keep it competitive."
Empty leg prices are available alongside regular charter quotes by phone, on websites, via apps or on online marketplaces. Quoting systems use a website to collect flight requests, but the operators still have to do calculations to provide quotes. This can be a time consuming and often wasted process if the flight is not taken up.
Shouldn't the flight fit the customer?
A number of online brokers have been trying to sell passenger-less flights by posting all empty legs in the hope that people will find the one they want. But does this break a key principle of private aviation; that the aircraft needs to work around the individual, not the other way around? On balance it is thought unlikely since the customer is able to choose from a number of options available to match their criteria.
The holy grail would be a real time, live quotation system and up until now this has not been achieved. Stratajet ceo Jonny Nicol says he has spent the last five years developing such a system and believes that the complex algorithms supporting it will finally make booking empty legs faster and more automated.
Nicol explains: "Private and business aircraft do not move in set patterns or set times, and strict regulations exist to manage crew hours. We collate all the data from 2,107 airfields around Europe and factor in 15 different sets of fees distinct to private aviation: airports fees, handling agent fees, government airways, taxes, etc, all of which vary enormously. The landing fee itself has 247 different variables to consider when calculating and small differences can mean changes in price of thousands of euros. But Stratajet now does all those calculations in 10 seconds."
But the problem is ensuring that the original charter flight doesn't affect the empty leg. Steve Westgate, aviation director at Returnjet says: "Often, if the originating charter client is given a discount on the back of the subsequent sale of the empty leg then they will try and stick to the original schedule."
Returnjet's empty leg corridor technology now matches listed empty legs with requests for flights that may work with repositioning or a change to the time or date element. This flexibility gives a better chance of finding a match between client and empty leg.
There is a difference between passengers who normally charter private jets and those who fly mainly on empty legs. Travellers who are used to business jets might book empty legs as they know the service and the advantages of flying privately. If they can be flexible, or if they have a last minute trip, they might consider the possibility of checking to see if there is a positioning flight available rather than booking a full fare flight. Conversely, those who mainly book empty legs normally do not charter jets on-demand as they are looking to travel at more affordable rates.
Though some empty legs may be booked just hours in advance, checks still have to be performed, inter alia, on oper-ator documentation, insurances, AOCs, flight rules and crew reports. "We pride ourself on safety so we only offer deals once we are confident due diligence is complete," says COO of California-headquartered Le Bas International Tracey Deakin.
Adam Steiger, president of Florida-based Air Charter Advisors, says: "Not every empty leg fits our requirements because we are a Wyvern certified broker with very high safety standards. For the trips that we do, we run third party reports on crew, maintenance and insurance, and we find that not all the empty legs, or planes, or pilots, will live up to those standards. And that's a problem, because if another brokerage is trying to sell an empty leg at, say, $5,000, but we can't offer that because it doesn't meet our safety para-meters and the next best option is more expensive, our clients don't necessarily understand the implications. They just see the price difference."
In the US empty legs have to be carefully positioned. The United States Department of Transportation regards the offering of an empty leg at a fixed time from a fixed city as being tantamount to offering a scheduled service, something that you cannot do as a Part 135 operator. Jeffery Brown, chief pilot and operations manager of Caribbean air charter company Fly BVI, advises returning clients to request availability for repositioning legs early in the planning stages of their trip, and to consider travelling 'against the flow' of passenger traffic so as to visit the Caribbean, for example, in the weeks before Thanksgiving or Christmas and then to depart when everyone else is arriving.
An empty leg is more complex than simply someone paying for a one-way flight and the aircraft returning empty. It combines scheduling, operating procedures, and commercial policies, including owner approval. "They are ephemeral by nature," says Oliver King, managing director at Avinode. "Some operators will advertise the leg as a one-way flight, rather than an empty leg, avoiding both the expectation and the setting of very low pricing to avoid the long-term risk of price erosion. Operators with larger fleets run either manual or automatic schedule optimisation at certain points to see if they can operate the same number of flights with fewer aircraft. They save on operating costs if they can do this, but this is not in real-time as it's difficult, so optimisation happens at certain points in time in order to try fill the empty leg. Schedules are often optimised at 72, 24 and 12 hours out. At each point an empty leg can disappear as the operator manages to combine paying legs in such a way that it is no longer considered empty.
"There are uncertainties involved in the empty leg business; for example, who owns the empty leg? Often these are contractual issues about whether the operator, or the broker who has chartered, has the rights, and it is not uncommon to see both parties selling the same empty leg."
It all depends on the client and their risk tolerance
"If a client is flexible and can accept delays or cancellations, and understands these possibilities, we will present an empty leg," says Gregory Belezerian, VP of Massachusetts, USA-based Magellan Jets.
As a by-product of a confirmed and paid for itinerary, empty leg flights are subject to change or cancellation arising from that booking. Customers booking an empty leg should be briefed on the quote disclaimer and understand that the flight is subject to cancellation or changes as imposed by the customer with the confirmed flight itinerary.
According to David Shaver, VP sales and marketing of Toronto, Canada-based Chartright Air Group, if timing is important and the client cannot be flexible, then buying an empty leg might not be the most appropriate option. The client on the empty leg can only initiate changes to flight details if such changes do not affect the original client's schedule. And these changes would be subject to price revisions.
When changes to the empty leg occur, most brokers will try to find a solution for the client that avoids cancellation of the trip; perhaps a slightly different flight time or date, an alternative nearby destination or a change of aircraft type. These are unlikely, however, to come without price adjustments. When the empty leg does fall through as a result of changes to the original charter, some operators may agree to full reimbursement but typically both the operator and broker contracts have special clauses excluding any sort of responsibility in this event.
Douglas Hopkins, CEO of Republic of Ireland brokerage Wings Charter, says: "With any form of travel there can be an element of risk and to counteract that we always have a backup plan. In case of a technical issue, or if the operator changes the original offer, we are covered by a contract as with any other flight, so the cost and replacement aircraft is the operator's responsibility. Once finalised, empty legs become a confirmed charter flight just like any other, regardless of the lower price."
But if mechanical problems beset the aircraft then it can be challenging to find another aircraft to supplement that trip at the same price. So as a broker, Adam Steiger of Air Charter Advisors asks whether you swallow the additional expense to have a happy client and lose money on the trip, or do you ask the client to pay the difference? "Now I'm not in the business of hurting or losing clients, nor am I in the business of losing money. So it makes for a sticky situation and there is only so much I can be out of pocket on a trip, especially if it is a client who may never use us again," he says.
Additionally, all operators will require the client to charter the entire aircraft, rather than simply book a seat on board. So, as Steve Evans, senior account manager executive charter division at UK-based ACC Charter points out, opportunities for a client to fly by executive jet for less than the cost of a scheduled seat usually only occur when the cost can be spread across a group with sufficient numbers. Meanwhile, where clients are looking for a return or multi-leg charter, while they may find the perfect outbound flight, they may not have the same luck finding a return or onward flight with a routing or aircraft that fits their requirements.
Empty legs are cheaper than normal business aviation prices; between 25-75 per cent cheaper depending on the routing, the operator and the aircraft. But, certainly outside of the US, their market share isn't yet big enough to impact regular prices as a whole.
Alina Minaeva, charter sales executive at UK-based SHY Aviation, says: "Empty legs don't affect the market price index because there isn't the infrastructure in Europe to sell a high percentage of charter flights from an empty leg list."
It is hard to say whether empty leg pricing will reduce the cost of business aviation overall. The sale of empty legs may increase the competitiveness of companies in the market which may bring down the cost of private flights in general. But the flights don't offer the same amount of flexibility and options that you would get from booking a normal charter so many don't anticipate much, if any, devaluation.Empty legs exist because operators need to reposition an aircraft, and want to offset operating costs by offering the flight to clients. The operators' hourly operating costs are lower than the hourly price of a normal charter and that's where most of the savings comes from.
They provide operators with a higher profit margin, and if the empty legs provide revenue for the operators and allow owners to get a better return on their investment, there follows the opportunity to reduce the hourly rate. The more the aircraft flies, so the hourly operational costs of insurances, maintenance, pilot training, crew salaries etc are amalgamated and reduced. Currently some operators already pass on revenue from empty leg sales to their owners. But what happens in the case of the first leg client, how do they feel if they discover the return leg of their flight, the price of which is within their overall charge, is sold at a much lower rate to someone else? That's the difference with one-ways – no duplication of payments.
Magellan's Belezerian adds: "More and more clients are not paying for the aircraft to return to base empty and are opting for a one-way cost. This has decreased the number of empty legs available, and I see the industry moving more towards this." But ultimately, any downward price trend probably depends mostly on client demand.
Intuitively, one might think that for every one-way flight there is a corresponding empty leg. However, practice proves that it is not the case often because some operators simply aren't interested in marketing them. They may lack the time, the owner may not be interested or perhaps it is outside of company policies. A good tool to evaluate the quality of the empty leg market in a certain geographical area is to see whether there are certain city pairs or axis that are frequently flown. Yann Jaccard, CEO and co-founder of Swiss brokerage Simply Jet, notes that typically in the US, north-south routings on the east coast are a good source of "reliable" empty legs as well as some European city pairs like Geneva-Paris or London-Nice.
In a perfect world there could be a real benefit to using all empty legs ...
Empty legs have regularly been proposed to potential customers as a means of travelling by private jet at a fraction of the price, but the reality is often different. All operators need to do what they can to sell these empty legs and Avinode reports seeing companies actively seek out exclusives to buy the supply of an operator's empty legs for a period of time as a means of promotion. These reduced prices have obviously helped capture the imagination of potential business jet travellers and are seen as a win-win for certain operators.
Some feel that it requires more work than is justified to achieve an empty leg booking. Quotes can be inaccurate or out of date, and success does in part depend upon operators constantly updating and accurately representing their empty leg schedules on the technology platforms. Also, the sale of empty legs sets expectations for clients that may not be realistic. If a customer buys a flight at a low price, then will they expect it every time? If they call up again and there is not another opportunity in the same price range, they may suspect some 'creative' pricing.
Empty legs have made business aviation more attainable. More and more people who either fly first class, or are just about to enter the world of private aviation, are becoming aware that empty legs exist so there is surely some potential for this market.
As the market increases in size and more people use private jets, the number of empty legs will also increase and they could steadily become a more popular way to use a private jet at a reduced cost. Furthermore, it is possible that users of empty legs will eventually become full charter users, increasing the market size further. Offering an empty leg to potential customers can be the last little push needed to convince them to fly privately. And once they have had their first experience, the second booking should be so much easier to make.
The empty leg market has grown substantially in the last 10 years and has allowed many people, who generally would not consider spending the money on a full charter, to experience the benefits of business aviation. Caroline Werf, MD of ACS Germany, says: "With the development of technology and integration of booking systems and real-time market availability, I would suspect that this market will continue to grow in the coming years."
However, given that most customers want to pick and choose the terms of their travel, many will continue to avoid empty legs. Some clients don't want cheap rates when they are flying on the most exclusive form of aircraft.
How much can you save?
Savings can be up to 60-70 per cent of the regular charter price. If the aircraft has to return or position in for a client, operators will look to cover fuel and navigation fees with minimal operating cost.
Contributors
Adam Steiger, Air Charter Advisors, USA Oliver King, MD, Avinode /i>Steve Evans, senior account manager, ACC Charter, UK Lenka Nahlovska, charter sales, ABS Jets, Czech Republic Doulis Carafil, General Manager, Air Business International, Greece Douglas Hopkins, CEO, Wings Charter, Republic of Ireland Marco Dulitchi, sales manager, TopJet Executive, Italy Joel Thomas, President and CEO, Stratos Jet Charters, USA Jonny Nicol, CEO, Stratajet, UK Yann-Guillaume Jaccard, ceo and co-founder, Simply Jet, Switzerland Alina Minaeva, charter sales executive, SHY Aviation, UK Chris Hamblen, director of charter sales, Reynolds Jet, USA Steve Westgate, aviation director, Returnjet Robert Almqvist, co-founder and owner, Nordic Air Brokers AB, Sweden Rick Colson, president, New Flight Charters, USA Adam Twidell, CEO, PrivateFly, UK Caroline Werf, MD, ACS Germany Gregory J Belezerian, VP, Magellan Jets, USA Tracey Deakin, COO, Le Bas International, USA Carsten Vistisen, general manager, Join Jet, Denmark Debbie Gardner, managing partner, PDM Consulting Inc, USA Ian Button, MD, Independent Aviation, Australia Nancy Barto, business development manager, Global Jet Centre, Dubai Osman Erazo, founder, chairman and ceo, Erazo Jets, USA Ann Bocklandt, sales and BDM, Engel & Volkers Aviation, Luxembourg Isabelle Pérez Meneses, charter executive, Aerovias DAP, Chile Carmen Chan, charter sales, Asian Sky Group, Hong Kong Jason Johnson, co-founder and owner, Exclusive, USA Barrie Prescott, CEO, Conciair Flight Charter, UK James Armstrong, head of commercial development, Magnus Aviation, UK Kim Scolari, president, Jet Productions, USA Sjoerd-Jan van Klaarbergen, owner, Winged-Dutchman, Netherlands Nigel England, COO, Windsor Jet, USA Rustam Suhanda, director aviation, Transwisata Prima Aviation, Indonesia Gudrat Hajiyev, head of ground handling, Silk Way Business Aviation, Azerbaijan George Galanopoulos, MD, London Executive Aviation, UK Paul Aston, charter manager, Inflite, New Zealand Bernhard Fragner, CEO, GlobeAir, Austria Jeffery Brown, chief pilot & operations manager, Fly BVI Ltd, Virgin Islands David Shaver, VP sales and marketing, Chartright, Canada Michael Hampton, MD, Capital Air Services, UK Carlos Bertens, operations manager, AviaSur Charter Services, Chile Alexis Javkin, director, Aerolineas Ejecutivas, Mexico Carlos Riederer, sales and marketing manager, Aerocardal, Chile Andreas Krenkler, sales manager, AC Aviation Charter, Switzerland and many others...