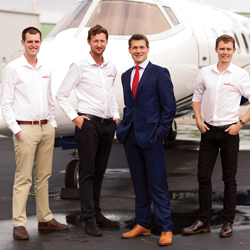 USA product executive Marion Delano, operations manager Alex Peake, CEO Adam Twidell and product executive Pierre Crochet are aiming to replicate PrivateFly's European growth on the other side of the Atlantic in the Miami office
PrivateFly spreads wings to Miami
UK private charter platform PrivateFly has opened a dedicated US office in the Miami region. The launch is a key step forward in its US growth plans following strong sales over the past two years. The team will be based at Fort Lauderdale International airport.
In choosing Miami the company is specifically targetting a growing private jet audience in the area, it being a popular luxury travel destination in its own right and a key connection point for the Caribbean, Mexico and South America.
CEO Adam Twidell says: "PrivateFly's model is attracting fast-growing interest from US business aviation customers who now represent a third of our flight sales. Florida is the third busiest state for business aviation after Texas and California, and Miami has exciting future potential. Its private aviation traffic rose by three per cent in 2015 but we expect the first half of 2016 to see greater growth of around six to eight per cent.
"We are on an even steeper upward curve at PrivateFly. We saw a 75 per cent growth of Miami flights in the first quarter of 2016 and while this is partly a reflection of our emerging status in the US, its demo- graphic is a great fit for our business model. Our fast, tech-driven service is attractive to the new breed of private jet customer. Miami's typical private jet user is young; one third are under 35, and this generation is fuelling a different kind of exper- ience built more around booking convenience and exceptional service than champagne and caviar."
Twidell continues: "We have relocated experienced team members from our UK head office, but we're also looking to fill a number of new roles, including a US vice president of sales. PrivateFly is still growing in Europe but we're looking forward to spreading our wings, offering our innovative technology and industry expertise on both sides of the Atlantic."
Recognition of fast growth in international sales
PrivateFly's rapid international expansion has seen it named the UK's fourth fastest-growing UK SME for international sales in The Sunday Times Heathrow SME Export Track 100. The annual league table looks at companies' international sales revenue as a percentage of total sales, and ranks the UK's top 100 small and medium sized businesses (SMEs) over the past two years.
Twidell adds: "To be named the fourth fastest-growing SME exporter in the UK, across all industries, is such a source of pride for our whole team and fantastic recognition of the growth we've created over the past few years both in Europe, where our sales have been heading upwards for several years and, more rapidly and recently, in the USA."