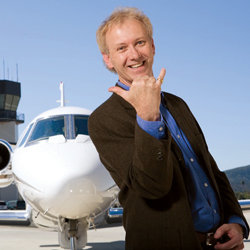 Tracey Deakin explains how the daily roll over of global communications between Le Bas' offices in Huntingdon Beach, California, and Shannon, Ireland, enables the company to offer 24-hour daylight service
Above and beyond: In conversation with Tracey Deakin, co-founder of Le Bas International – a purveyor of transportation
Once upon a time, three young business men got together to combine their love of aviation, fast cars and motorbikes to form a company that is still going strong 25 years later. In October, charter broker Le Bas International celebrated its 25th anniversary. Co-founder Tracey Deakin likes to break that down: "For us, 25 years means 300 months, which is 1,300 weeks or 13,104,000 minutes. Since our first charter booking we have processed 46,363 requests and flown millions of charter miles, transporting an elephant, heads of state, and much in between." Deakin looks back on the journey he has taken with friends Peter Le Bas and Patrick Hampton, and considers the factors behind their success.
"Peter was a good friend and he was in the limo business. At the time I was with a charter company called Alpha Jet. Peter and Patrick were forming Le Bas International, a limo company in Seal Beach, California, and I suggested we collaborate: limos and jets. Both Patrick and Peter raced motorbikes in the Isle of Man TT, although their attitudes were very different. Peter's priority was just to blaze round the track, while Patrick used to make sure every dial and bolt were polished and working correctly first. Patrick is Le Bas' chief financial officer and his preparation and attention to detail is an estimable quality in a CFO. Nowadays he races bicycles and has won a lot of medals for it. All three of us are still based in California, but spend considerable time on the road seeing clients, splitting our time between our offices in California and Shannon, Ireland.
"In the early days our main customers were airlines, and around 12 per cent of our business still comes from them. Not the big scheduled operators, but primarily the holiday operators. There are currently 250 major airlines and we fly for about 170 of them. When they get into a jam, when they need to move aircraft spare parts, when they have a mechanical issue, when a crew member goes sick, if they need to move people around due to rotation issues, when there is a shortage of seats, or when they have a major disruption and need a sub-service, we are considered to be the airline's silent partner, ready to spring into action as and when needed.
"At the beginning it was just the three of us working 24 hours a day. We always returned every call, we communicated with every operator, we had worldwide connections and our reputation grew. In 1993 we started talking to American Express, and in 2000 the AmEx PJP was launched and became the flagship for their Platinum and Centurion card members. Subsequently the programme has been expanded to Europe and the rest of the world. There's not a place on the planet that we don't service. We assist at the global level, shrinking the planet on behalf of a truly global clientele."
Deakin is keen to point out the complementary interests within the company: "We are not all peas in a pod, we have differing specialities. On any given day, our commun-ications centres are arranging a wide variety of flights under four key groups: corporate, group, airline and cargo. Our team calls all our clients regularly, those we have had for many years and new ones too. We still get lots of referrals, and we are now in a position where we are exploring those, taking on every opportunity and making it work.
"The majority of our work nowadays is with passenger charter, and there are patterns and spikes of activity across the year as clients in the Americas and Europe criss-cross the airways to chase the good weather and escape the bad. For corporations, the start of their financial year is typically very busy for us as we facilitate their road shows and product launches. In the USA, the Thanksgiving period brings another rush of charters but further afield we find ourselves moving into Asian airways supporting new and growing business opportunities."
Along with this growth in business comes the need for bigger premises. Le Bas is now relocating all its US operations to large offices in Huntingdon Beach, California, a global communications centre operating 15.00-07.00 GMT. The Europe office in Shannon opens as Huntingdon Beach closes and all Le Bas business is transferred and conducted there until Huntingdon Beach reopens the next day. "When a client calls up they give a security reference number and everything appears on screen. The controller can see everything that has been arranged, when it happened and how it happened. Nowadays we can do even more than that; we make sure that the actual agent in charge that night is always available. To my knowledge, we are the only company that moves its whole corporation every day, twice a day." In this way Le Bas covers the whole globe with a 24-hour daylight service.
Things have changed hugely in the last 25 years, so what stands out for Deakin?
"Back at the start, the type of clientele who used air charter were more elite. Today, charter has opened up to a wider range of private and business clients. We get a lot of group charter, incentive jaunts for promotional trips and company celebrations. We will take them down to the Caribbean or south Pacific, maybe Europe, then we organise a transport itinerary, special treats, boarding and gates all checked for them. All the nice bits that you would not normally get now, but you did years ago.
"Generally, flying used to be more of a one destination only event. That too has changed. There may be several stops on an itinerary now, and clients may want their plane to wait for them between stops. In general the big airlines are less glamorous than of old, there is a functionality to flying commer-cially that has caused those who used to fly first class to now charter privately. That has inspired us to reach out around the globe and to offer a personal service.
"We have put all the corner-stones in place, and the next few years will see us building on those, making the business better, more efficient but, most importantly, making it more personal. We move small groups and large groups, everyone from governments, people in the film industry, musicians, personalities, and sports teams. It is very exciting. We pay huge attention to detail, each trip is individually tailored and timings are critical. Their itineraries can be complex, and we are just a small cog in the middle, but a very important cog nevertheless."