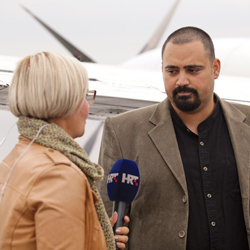 Domagoj Vlasic talks to Croatian national television (HRT) about his move into air taxi and ambulance charter
Croatian flying school redirects its attention to air taxi and ambulance
Pannonia Pilot School has gained an AOC for air taxi and air ambulance flights in its King Air C90. Domagoj Vlasic, general manager, says: "In vip passenger configuration we can offer six seats. As an air ambulance we can offer full medical treatment including a Lifepak 10 with defibrillator, monitor and pacemaker, and a LifePort organ recovery system with oxygen, suction and air."
Pannonia can arrange a doctor or medical technician to accompany its medical flights which are equipped with a complete medical technician and doctor emergency kit bag. The King Air is also equipped for the transportation of human organs and vaccines in its special medical cooler, a Fiocchetti C26, with temperature control. Based in Croatia, Vlasic notes that there are no air ambulance aircraft in six of the neighbouring countries.
Speaking of this new direction, Vlasic explains: "We decided to move into charter and air ambulance flights since we were not satisfied with the new generation of future pilots. We have enough students, but their reasons for becoming pilots these days are completely different. Today's kids are not entering this profession because of a love of aviation like my generation did; they are doing it for financial reasons, an investment with the hope of a big financial return. So, basically, disappointment is the reason behind our decision to move our business into another field of aviation."
Vlasic goes on to explain: "Since 1993 we have been a school, maintenance facility and aerial work operator. The AOC has produced enquiries every day because our prices are generally lower than those of other air ambulance services. We can do this because we have lower fixed costs as we have our own maintenance crew and facility.
"At the moment our base is at Osijek airport but we are positioned in Pula for taxi and air ambulance contracts to central Europe, Italy and France. We are planning to expand the fleet with a King Air 200, hopefully by the end of this year."
Contact details